by Lauren Elliott
(An adaptation of Sarah Josepha Hale's recipe and an updated version on the Chicken Coop Chatter Webpage.)
Should you include this rustic pumpkin recipe at your next Thanksgiving feast, be sure to share the history of this dish with your own family and friends, which traces it from the early pilgrims to Civil War Thanksgiving tables.
Ingredients
4 small (about 1 pound size each) Whole Pumpkins (hollowed out)
1 Cup Thick Cream
1 T. softened butter
2 Cups rendered and mashed pumpkin pulp (or canned pumpkin)
1/2 Cup raw sugar, brown sugar or dark honey
1 T. Rosewater
1 beaten egg
1/2 tsp. Allspice
1/2 tsp. Cinnamon
1/4 tsp. Nutmeg (Note: The original recipe calls for Mace which has a stronger flavor than Nutmeg, so it would have been used sparingly if at all.)
Instructions
Wash the exterior of the Pumpkin shells.
Cut the tops off about 1-2 inches below the top to use as a *lid*.
Remove the seeds and stringy contents.
Heat the bowl of the pumpkin just enough to easily remove the pulp, but not cook the shell.
Remove the pulp carefully with a large spoon or scoop, leaving enough pulp on the interior for stability of the shell.
Heat the pulp until soft enough to mash and beat with a fork.
Beat the eggs and sugar and spices together by hand until light and fluffy.
Whip the cream and rosewater until thick and creamy, fold the cream and egg mixture into the pumpkin pulp.
Spoon the pumpkin batter back into the hollowed out pumpkin shells.
Arrange the miniature pumpkins in a large Cast Iron Dutch oven greased with the butter.
Cover and place in the oven at 350 degrees for 1 hour or until the pudding is set.
Allow to cool enough to remove to a plate for serving.
For an updated version the final dish can be topped with whipped cream, though it would not have likely been served with any topping at the early Thanksgiving dinners.
---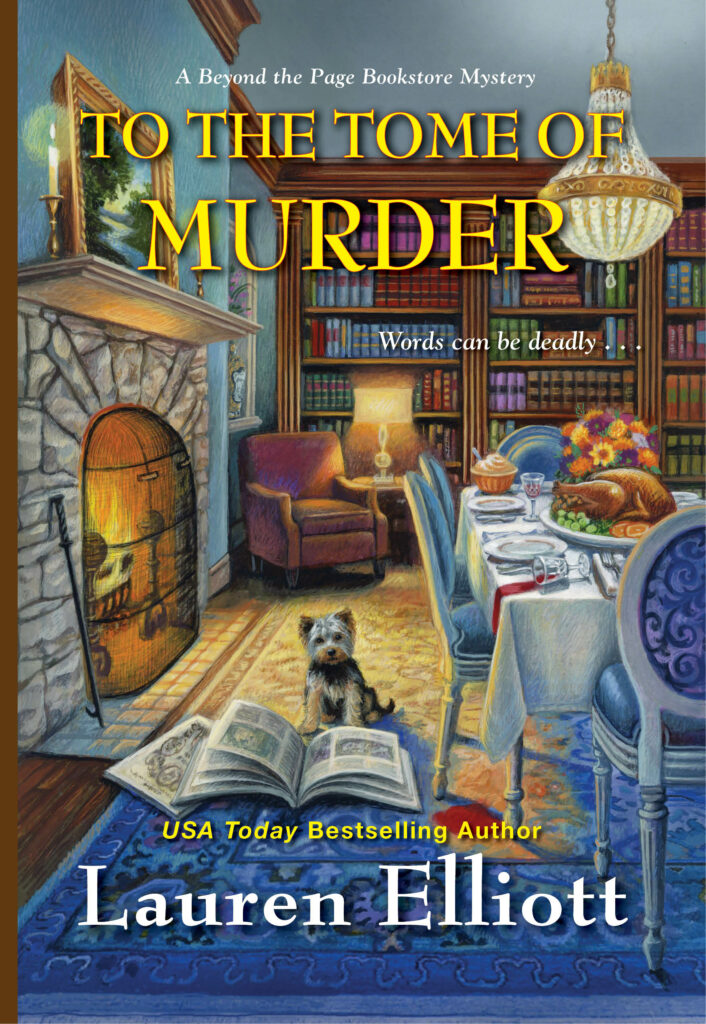 Three weeks before Thanksgiving, bookshop owner Addie Greyborne already has a full plate—and a killer on her case…

Addie's determined to turn a seemingly ordinary November in coastal Greyborne Harbor into one for the books. The windows of her shop display carefully curated works by American writers, including a rare selection of traditional holiday recipes from the influential 19th-century publication Godey's Ladies Magazine. And then there's the town's Civil War-era themed cooking and baking competition, with a hefty cash prize and free publicity going to the winning dish…

But when she finds her cousin's boyfriend murdered, a stunned Addie reluctantly realizes she may be the only person who can blow the cover off a grisly crime. With so many unanswered questions surrounding the victim's death, Addie must figure out the strange connection between a mysterious vintage briefcase, the disappearance of a first edition copy of Sarah Josepha Hale's famous nursery rhyme, "Mary Had a Little Lamb," and a dangerously well-read culprit…