by Lauren Elliott
We all think that we know the history of American Thanksgiving, right? The Pilgrims came over from England and landed at Plymouth Rock and had a bad winter. A peaceful Native American tribe then taught them to plant crops and how to hunt the local wildlife. They then all got together and had an autumn harvest feast to celebrate the settlement's success. Today we acknowledge that as the first Thanksgiving celebration in the colonies and happily carry on the tradition with our own autumn feast and giving thanks for all we have.
However, perhaps there is a little more to the Thanksgiving story than that…
You see, for the following two centuries, days of Thanksgiving were celebrated in the states and colonies, but it was all very erratic with a different date being set by each governor. However, when I was researching for my newest book, To the Tome of Murder, which begins three weeks before Thanksgiving, I came across some interesting information that I was not aware of. The Thanksgiving holiday is a lot more complicated than following in the footsteps of the Plymouth Rock pilgrims.
Did you know that it wasn't until 1863, in the midst of the Civil War, that President Abraham Lincoln proclaimed a national Thanksgiving Day to be held each November?
America had become so decimated by the continuation of the Civil War that Secretary of State William Seward and Sarah Josepha Hale, a prominent ladies magazine editor, worked to create a national day of community. Hale believed a day of Thanksgiving would help ease growing tensions and divisions between the northern and southern parts of the country and would not only bring the country but also families together again after the war. In the summer of 1863, Hale, with her constant prompting through magazine articles and letter writing to officials, and Seward's efforts paid off. Lincoln declared the last Thursday of November a national day of Thanksgiving.
Sarah Josepha Hale was the author of the 1827 novel, Northwood, a Tale of New England, a book that illustrated home life in the early Republic, comparing how life differed in the North and the South. In addition, it was the first publication of an American novel written by a woman. Hale also published books of poems and prose, promoted the idea of music for children, and wrote the poem, "Mary's Lamb," known today as "Mary Had a Little Lamb." However, it was her years of work as a prominent writer and the editor of Godey's Lady's Book, a Philadelphia-based monthly magazine—one of the most influential periodicals in the country at the time—where she used her platform for the next forty years to promote current women's issues and give household tips and fashion suggestions. Her efforts for a national holiday combined with her articles about family, home life, and recipes rightly earned her the title of The Mother of Thanksgiving.
In the seventh book in the Beyond the Page Bookstore Mystery series, To the Tome of Murder, the town of Greyborne Harbor is preparing not only for the upcoming Thanksgiving holiday but also the annual Make it – Bake it Food Market cooking and baking competition. This year's event sponsors, the Essex County Association Chapter of the Massachusetts Historical Society, have selected a Civil War theme for the recipes entered.
This announcement has the whole area scrambling for the perfect Civil War recipe that will bring them the five-thousand-dollar cash prize and an article featuring their business in the Christmas edition of the historical society's newsletter. Addie Greyborne's best friend and teashop owner, Serena Ludlow, is no exception and throws her proverbial hat in the ring. It's a good thing that Addie stocked up on era recipe books and received a set of prints of the pages from Godey's Lady's Book with popular recipes for dishes served during the Civil War.
Along with the magazine editorials, Hale included recipes and full menus for the special day. Some of the recipes she came up with or recommended included roast turkey and dressing, creamed onions, mashed turnips, mashed potatoes, and – of course – pumpkin pie
Many of the recipes include traditional foods that are still a large part of today's Thanksgiving celebrations. Plus, some rather unique ones for popular pie flavors like pumpkin, pecan, sweet potato, apple, and mincemeat, including Sarah Josepha Hale's Thanksgiving Apple Pudding and Mary Todd Lincoln's White Cake recipes. However, the one that caught Serena's eye and something so uniquely different than any of the others was Sarah Josepha Hale's recipe for a traditional spiced-pumpkin pudding cooked in miniature pumpkin shells.
Remember there was a war going on and even for some time after access to flour, sugar, and other sweeteners were not available unless homemakers had small amounts left in their cargo barrels. They would have used those last little bits very sparingly and therefore, the Pilgrims early recipe of pumpkin pie made without a crust was the perfect solution for supply-strapped New Englanders, given that the original recipe called for filling hollowed-out pumpkins with milk, honey, and spices to make custard and cooking them directly in the still-hot ashes of a fire.
Since my series is book-themed and not baking or cooking, I did not include any of the recipes from Godey's Lady's Book in To the Tome of Murder. However, since Serena's entry into the Make it – Bake it Food Market cooking and baking competition was too good not to share. You can find the updated version of the recipe similar to one that would have been enjoyed during those first Thanksgiving feasts and celebrations in my next post.
---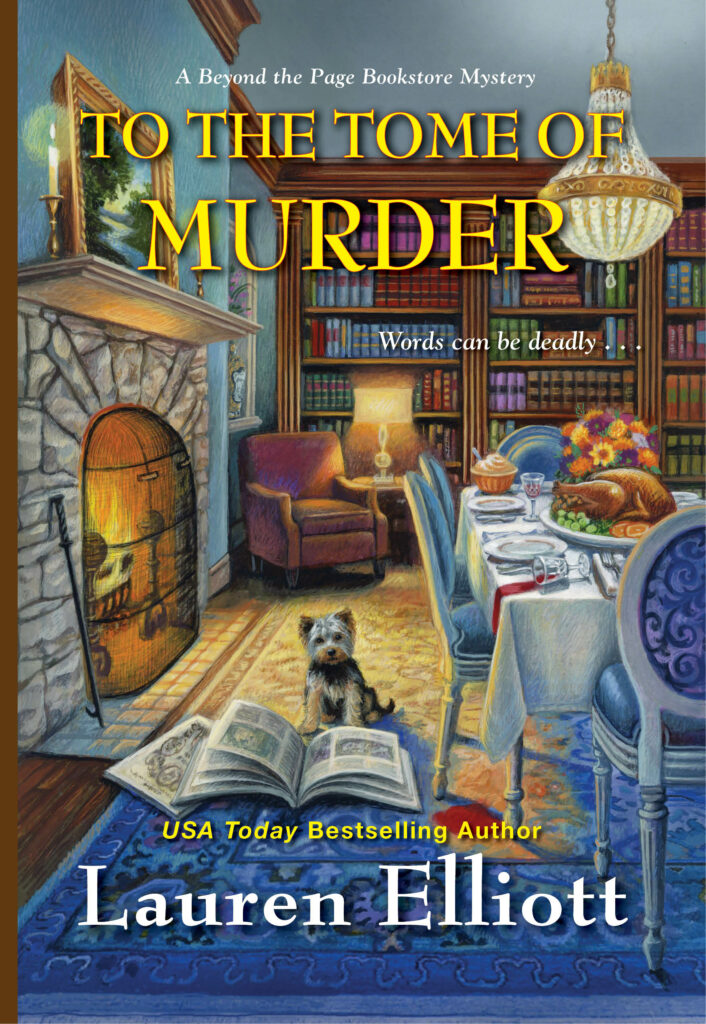 Three weeks before Thanksgiving, bookshop owner Addie Greyborne already has a full plate—and a killer on her case…

Addie's determined to turn a seemingly ordinary November in coastal Greyborne Harbor into one for the books. The windows of her shop display carefully curated works by American writers, including a rare selection of traditional holiday recipes from the influential 19th-century publication Godey's Ladies Magazine. And then there's the town's Civil War-era themed cooking and baking competition, with a hefty cash prize and free publicity going to the winning dish…

But when she finds her cousin's boyfriend murdered, a stunned Addie reluctantly realizes she may be the only person who can blow the cover off a grisly crime. With so many unanswered questions surrounding the victim's death, Addie must figure out the strange connection between a mysterious vintage briefcase, the disappearance of a first edition copy of Sarah Josepha Hale's famous nursery rhyme, "Mary Had a Little Lamb," and a dangerously well-read culprit…