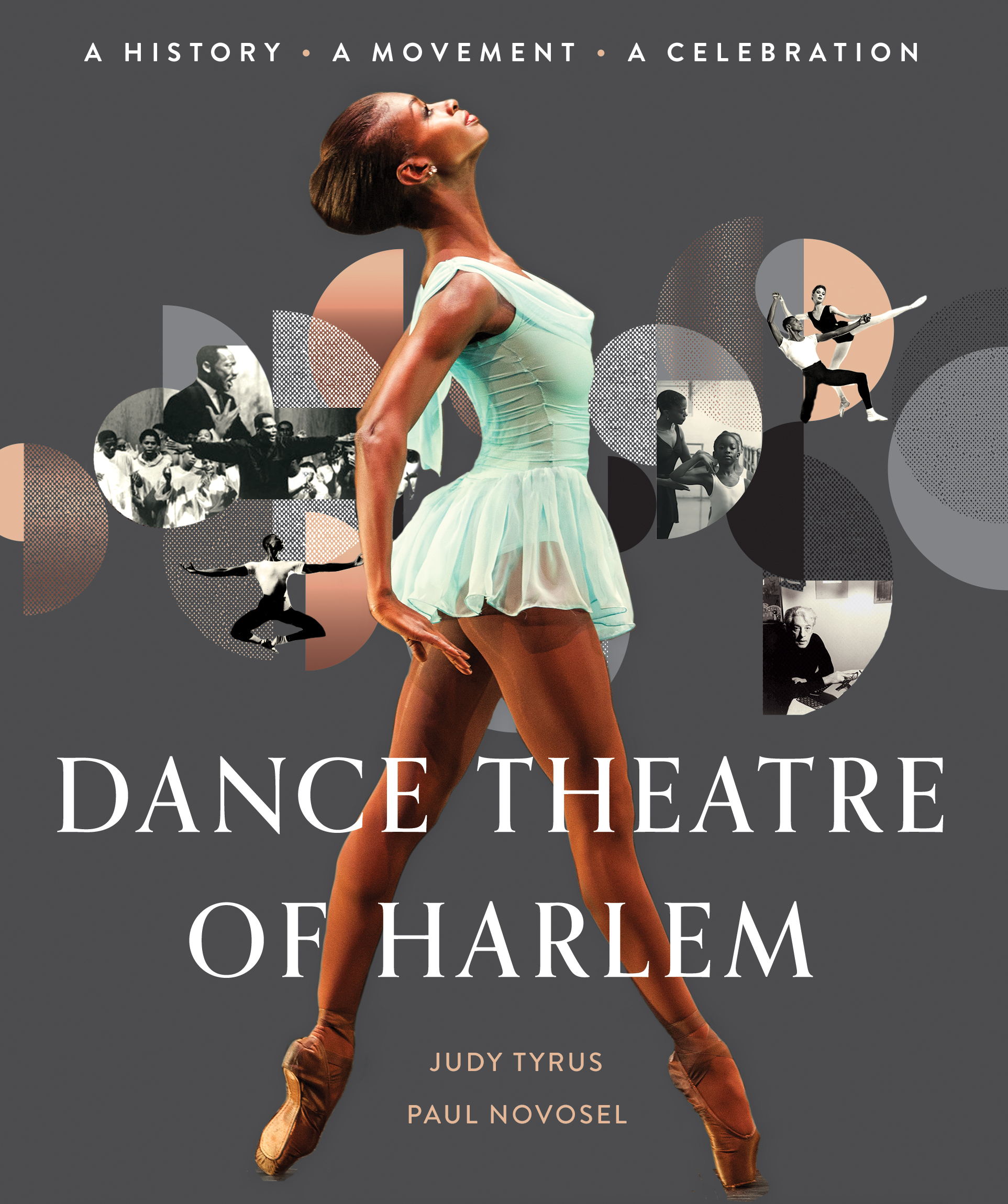 Dance Theatre of Harlem
Judy Tyrus and Paul Novosel
From its modest beginnings in the 1960s in a Harlem church basement, to its meteoric rise to international fame, the Dance Theatre of Harlem ignited the world with one simple, still-revolutionary statement: All can do ballet. Into the 21st century, as the world, and the country, continue their historical struggles and triumphs, the story of this haven for dancers of all colors and backgrounds resonates more than ever. Here, for the first time, is the definitive portrait of the one-of-a-kind community dance company that reflected—and shaped—our times, and whose enduring principle continues to inspire the future.
With exclusive backstage stories from its legendary dancers and staff, and unprecedented access to its archives, Dance Theatre of Harlem is a striking chronicle of the company's amazing history, its fascinating daily workings, and the visionaries who made its legacy. Here you'll discover how the company's founders—African-American maestro Arthur Mitchell of George Balanchine's New York City Ballet, and Nordic-American Karel Shook of The Dutch National Ballet--created timeless works that challenged Eurocentric mainstream ballet head-on—and used new techniques to examine ongoing issues of power, beauty, myth, and the ever-changing definition of art itself.
Gaining prominence in the 1970s and 80s with a succession of triumphs—including its spectacular season at the Metropolitan Opera House—the company also gained fans and supporters that included Nelson Mandela, Stevie Wonder, Cicely Tyson, Misty Copeland, Jessye Norman, and six American presidents. Dance Theatre of Harlem details this momentous era as well as the company's difficult years, its impressive recovery as it partnered with new media's most brilliant creators—and, in the wake of its 50th anniversary, amid a global pandemic, its evolution into a worldwide virtual performance space.
Alive with stunning photographs, including many from the legendary Marbeth, this incomparable book is a must-have for any lover of dance, art, culture, or history.
The Last Goodnight
Kat Martin
With the first in a brand new, high-octane romantic thriller series, New York Times bestselling author Kat Martin stirs up a hornet's next of lies, adultery and murder as a betrayed husband and a private detective investigate his estranged wife's disappearance.
A thrilling new suspense novel from the bestselling author of The Perfect Murder that fans of Jayne Ann Krentz and Laura Griffin won't want to miss! A cold case is heating up, and with another body on his hands, one rancher is hot on the trail of a killer…and protecting another woman in the crosshairs.
When Kade Logan said goodbye to his estranged wife eight years ago, he never thought it would be the last time he saw her alive. Now her car has been hauled out of a nearby lake and Kade is determined to track down the man who murdered her. Enter Eleanor Bowman, a talented private investigator who's about to stir up a hornet's nest on his Colorado ranch.
With old scandals still buzzing about his late wife's many affairs and new violence erupting, Kade is faced with the discovery of another beautiful woman's body. Are the two killings linked? Who is the man who seduced, then murdered both victims? Ellie believes they are dangerously close to the truth.
From corporate Denver high-rises to posh Vail mansions, Kade and Ellie sense the killer is closing in again, and this time Ellie is the target. Kade must risk everything to save the woman he's coming to love—before she becomes the next one to die . . .
The Spanish Daughter
Lorena Hughes
Set against the lush backdrop of early twentieth century Ecuador and inspired by the real-life history of the coastal town known as the birthplace of cacao, this captivating #OwnVoices novel from the award-winning author of The Sisters of Alameda Street tells the story of a resourceful young chocolatier who must impersonate a man in order to claim her birthright...
"An atmospheric and captivating mystery set against the backdrop of 1920s Ecuador, The Spanish Daughter is an engrossing, suspenseful family saga filled with unpredictable twists and turns."—Chanel Cleeton, New York Times bestselling author of Next Year in Havana
As a child in Spain, Puri always knew her passion for chocolate was inherited from her father. But it's not until his death that she learns of something else she's inherited—a cocoa plantation in Vinces, Ecuador, a town nicknamed "Paris Chiquito." Eager to claim her birthright and filled with hope for a new life after the devastation of WWI, she and her husband Cristóbal set out across the Atlantic Ocean. But it soon becomes clear, someone is angered by Puri's claim to the plantation…
When a mercenary sent to murder her aboard the ship accidentally kills Cristóbal instead, Puri dons her husband's clothes and assumes his identity, hoping to stay safe while she searches for the truth of her father's legacy in Ecuador. Though freed from the rules that women are expected to follow, Puri confronts other challenges at the plantation—newfound siblings, hidden affairs, and her father's dark secrets. Then there are the dangers awakened by her attraction to an enigmatic man as she tries to learn the identity of an enemy who is still at large, threatening the future she is determined to claim.
Praise for The Spanish Daughter:
A Publishers Marketplace Buzz Books: Fall/Winter 2021 selection
"A lushly written story of bittersweet family secrets and betrayals that ultimately celebrates the healing power of hope, resilience, love—and chocolate!" —Andrea Penrose, author of Murder at the Royal Botanic Gardens
"A lyrical and nuanced study of family and belonging. Readers will fall in love with The Spanish Daughter's unique setting amidst the cacao plantations of Ecuador in 1920, its lush and vivid prose, and compelling and audacious heroine." —Anna Lee Huber, USA Today bestselling author of Murder Most Fair
"A deftly written story entangling family, identity, chocolate and murder, set in the lush golden days of Ecuador's cacao boom in the early twentieth century. Hughes gradually weaves the separate tales of her narrators into a single strong thread, drawing you into the world of three very different sisters united by deception and loss."—Shana Abé, New York Times bestselling author of The Second Mrs. Astor