by Rebecca Zanetti
My publisher asked me to write a quick note about four of the Dark Protector heroes, and it was so difficult to choose which ones, so I just randomly chose a few. I hope you like them!
TALEN from FATED: The strategic leader for the Realm who has no patience but a big heart. He has no problem kicking anybody in the butt if necessary, even the king, and he figures it's his job to protect the king. And everybody else. He's the most possessive and is okay with that. He calls his mate 'mate' a lot but is a softie with her.
Quotes:
"No, baby," his coarse voice was pure sin in her ear as he held her where he wanted her. "I'll tell you when to beg." He bit down.
"Both races are born male. Only. Our mates are human. And Cara"—his voice dropped to a rumble—"you're mine."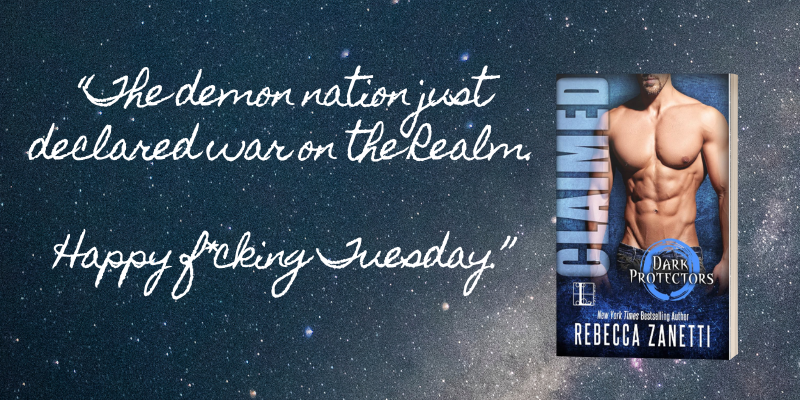 DAGE from CLAIMED: He's the king. He doesn't understand how anybody can forget he's the king. He's the most powerful person in the universe and doesn't want to be the king. He feels responsible for everyone, and when his mate works too hard, he throws her in the pool.
Quotes:
"You've never met the king, love." He nipped her ear and her knees began to tremble. "It's the man who has you."
"The demon nation just declared war on the Realm. Happy fucking Tuesday."
DAIRE from WICKED EDGE: He's the oldest Dunne brother who thought he wanted a mild mate and married a wild demoness who likes to rob banks for fun. He's easy going and tough and not afraid of anything. He's the calmest of the brothers until he isn't.
Quotes:
"Well now, Cee Cee. Considering you have drugged me, stolen from me, and basically lied to me, if you did need a protector, it'd be from me."
It was the smile that did it. Sweet and filled with challenge, which was a combination he'd never been able to ignore.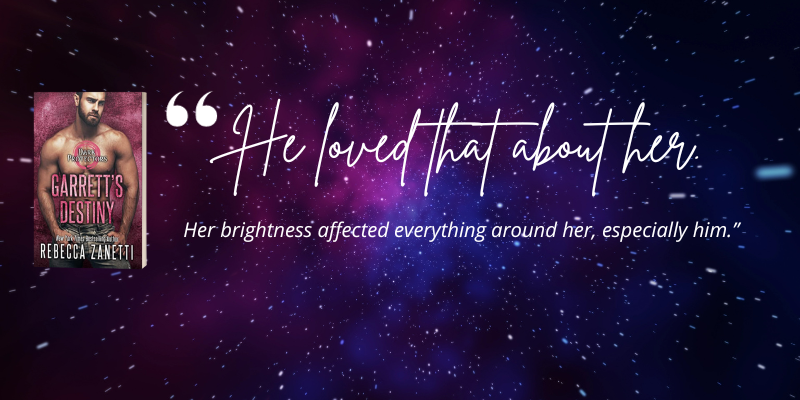 GARRETT from GARRETT'S DESTINY: Garrett is the heir to pretty much everything, especially all the responsibility. He's talented and dangerous and manages to balance his family and several other duties to the Seven and his motorcycle club. His mate is sweet and deadly, and he loves both about her. He's very protective of his sister (Janie) as well.
"You're my mate," he said simply. "You're my responsibility, and my word is law."
He loved that about her. Her brightness affected everything around her, especially him.
---
An explosive love triangle comes to its passionate conclusion and decides the fate of battling nations in award-winning and New York Times bestselling author Rebecca Zanetti's Dark Protectors . . .

As the only female vampire ever born, and the heir to two powerful immortal families, Hope Kayrs-Kyllwood has always felt the weight of fate and destiny. Now her heart is torn between two men and two different futures. It's a choice between duty and love, peace and war, with the fate of everyone she loves hanging in the balance.

As the leader of the Kurjan nation, Drake has always known that mating Hope is the best path to avoiding war. He's counting on her to know the same. . . Paxton has been Hope's best friend and protector since they were children. He would kill and die for her without a second thought. In fact, he's always known that would be his path . . .

With deadly factions at her heels, Hope must decide whom to trust and where her loyalty lies—before the choice is taken away from her . . .