By Shana Abé
Oh, the magnificent Astors! Just the surname alone invokes all sorts of ideas about wealth and privilege, doesn't it? John Jacob Astor IV was lucky enough to become part of the Astor family tree well after the first J. J. Astor left Germany to land on American soil and began, by hook or crook, to build his empire as a fur trader, a smuggler, and a landowner. This fourth John Jacob decided to go by "Jack," which in retrospect might have been an unfortunate choice of a sobriquet, as the sketchier publications of his day would stoop to calling him "Jack-Ass(tor)."
He was not a fur trader, or a smuggler. But he was a Gilded Age landowner, a landlord, an inventor and a shrewd businessman who managed to methodically build upon the fortune he inherited until he became the richest man in America.
He was also known to be shy in public—some said morose. The youngest of five children, he was the only son of a largely absent father and an extraordinarily formidable mother: Lina Astor, aka the Mrs. Astor, the unquestioned leader of the Four Hundred (aka anyone who was anyone in New York).
Poor Jack. As a young man, he was coerced into his first marriage to the lovely and well-connected Ava Lowe Willing (who was, apparently, equally coerced), and the two of them spent a miserable nineteen years together before Lina finally died and they felt free to divorce. (It must have been like taking a giant deep breath after suffocating for years.) Yet even though the Four Hundred knew how unhappy the Astors were as a couple, no one actually expected anything so drastic, so socially unacceptable as a legal divorce. People in their situation were expected to simply endure: to live separate lives, on separate estates or even separate continents, if need be.
But! Divorce it was! Ava promptly fled to England; Jack remained to face the social shame alone.
And then something kind of amazing happened. In the months that followed, people began to note that Jack Astor was slowly coming out of his shell. He was smiling more at events. He was relaxing more, and laughing. And in this golden moment, when this lucky and unlucky man was learning how to live the life he wanted, he met a pretty and vivacious socialite who, quite frankly, dazzled him: seventeen-year-old Madeleine Force.
It was the summer of 1910, in the fair town of Bar Harbor, Maine. He was nearly thirty years older than she. And they were, by all accounts, almost instantly smitten with each other.
It would be easy—and unfair—to write off their relationship as a stereotypical May/December romance, where a socially and/or financially ambitious young woman found a wealthy, older man to sponsor her rise up the social ladder. But Madeleine didn't need anyone's money or social approval. She wasn't a Knickerbocker like Jack, but she was still from a solidly upper-class family, an heiress in her own right who would have been more than fine, financially, even if she'd never wed. She had no reason to marry him other than the fact that she wanted to marry him.
In a bijou town like Bar Harbor, their romance could hardly be kept secret; the press caught wind of it and then, practically overnight, the whole world knew. The idea of Jack and Madeleine as a couple was scandalous, outrageous, riveting—and it sold a lot of papers. Whether Bar Harbor, Manhattan or Newport, Madeleine was hounded by the press wherever she went; her name was repeatedly published, her face, her words. None of it deterred her. Jack was wary of announcing an engagement before she turned eighteen, but it was clear to anyone paying attention that marriage between them was inevitable. They were so in love.
They shared seven glorious months as husband and wife before deciding to return home from their extended honeymoon abroad on the maiden voyage of the most luxurious ocean liner ever built. Madeleine was five months pregnant with their first child. Their future was golden.
Even before they set foot aboard Titanic, the Astors were America's (and maybe the world's) favorite scandal. After Titanic, they became its favorite tragedy. But for me, what truly defines Jack and Madeleine as a couple is just what defines us all: their desire for, and overwhelming capacity to experience, the profound human connection we call love.
---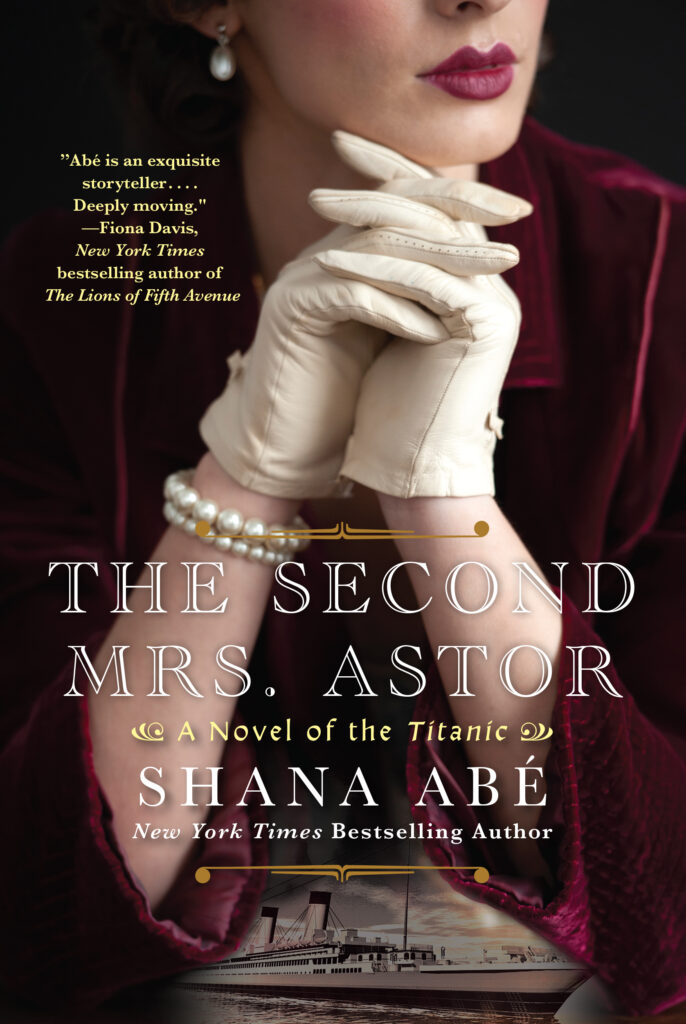 Inspired by the real-life Titanic love story between America's richest man and teenaged beauty Madeleine Force.

He was American royalty, the richest man in the country and Fifth Avenue scion of the Gilded Age. She was a vivacious teenage socialite suddenly and unexpectedly thrust into fame simply for falling in love with a famous man nearly three decades her senior. Brought to life in this sweeping work of historical fiction by New York Times and USA Today bestselling novelist Shana Abé, the love story between Jack Astor and Madeline Force, from scandalous courtship to tragic honeymoon aboard the Titanic, which made them the most famous couple of their time…
A mesmerizing novel of historical fiction from New York Times bestselling author Shana Abé, The Second Mrs. Astor tells the sweeping real-life Titanic love story of Madeleine Force, who became the teenaged bride of one of the world's richest men, and triumphed over tragedy and heartache.
"I won't begin with our ending, which everyone in the world knows anyway. Our beginning, however, belonged only to us…"
Madeleine Talmage Force is just seventeen when she attracts the attention of John Jacob "Jack" Astor. Madeleine is beautiful, intelligent, and solidly upper-class, but the Astors are in a league apart. Jack's mother was the Mrs. Astor, American royalty and New York's most formidable socialite. Jack is dashing and industrious–a hero of the Spanish-American war, an inventor, and a canny businessman. Despite their twenty-nine-year age difference, and the scandal of Jack's recent divorce, Madeleine falls headlong into love–and becomes the press's favorite target.
On their extended honeymoon in Egypt, the newlyweds finally find a measure of peace from photographers and journalists. Madeleine feels truly alive for the first time–and is happily pregnant. The couple plans to return home in the spring of 1912, aboard an opulent new ocean liner. When the ship hits an iceberg close to midnight on April 14th, there is no immediate panic. The swift, state-of-the-art RMS Titanic seems unsinkable. As Jack helps Madeleine into a lifeboat, he assures her that he'll see her soon in New York…
Four months later, at the Astors' Fifth Avenue mansion, a widowed Madeleine gives birth to their son. In the wake of the disaster, the press has elevated her to the status of virtuous, tragic heroine. But Madeleine's most important decision still lies ahead: whether to accept the role assigned to her, or carve out her own remarkable path.