When a murder occurs, sometimes a media firestorm is never too far behind. But are the tabloids being honest, or twisting the truth for a good story? Our book recommendations below explore this question. Keep reading on for thrillers that feature murder and media scandals, inspired by Those Empty Eyes by Charlie Donlea!
Those Empty Eyes by Charlie Donlea
The night her family was massacred, Alex Quinlan emerged from her quiet suburban home and into the media spotlight. As a terrified teenager on trial for her family's demise, she captured the attention—and hatred—of the nation. Now ten years later, the girl the tabloids nicknamed "Empty Eyes" is the only one looking for the truth of what happened that terrible night that changed everything.
The Wife Before by Shanora Williams
When Samira meets pro golfer Roland Graham, she's dazzled. He's wealthy, handsome, caring, and they quickly fall in love. Soon, they are married amid a media firestorm. But this hasn't been the first time Roland's been under media scrutiny. Some reporters think he killed his first wife. And when Samira does a little digging of her own, she can't help but think they might be right…
Reporter Edie Stone wants answers. It's been over forty years since the psychiatric hospital on Bane Island shut down, and they mystery of vanishing women remains unsolved. But when tries to get an exclusive story, strange accidents and coincidences begin to pile up. Edie thinks someone is trying to kill her and silence the story. But if she's close enough to be a threat, she must be close to the truth.
Twenty Years Later by Charlie Donlea
When TV reporter Avery Mason comes across a new story full of kinky sex, tragedy, and betrayal, she thinks it will be ratings gold. Soon, Avery is going into investigation overdrive to get all the dirt she can. But Avery doesn't realize there are other players in the game that are interested in her own past. Soon, her own secrets will emerge that she thought were dead and buried…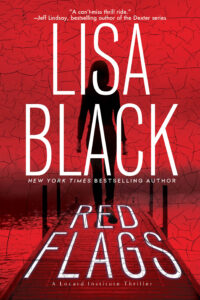 Crime scene analyst Dr. Ellie Carr is called into action when a case of a missing baby makes headlines. But this is no ordinary kidnapping case. The missing infant is the son of a wealthy lobbyist and Ellie's cousin. Now it's a race against time to find the baby alive—and unravel a suspicious political scandal that will shock the masses.
The Night She Disappeared by Kevin O'Brien
When the wife of her married lover goes missing, TV reporter Anna Malone suddenly finds herself under police scrutiny—and the media spotlight. But as hard as she tries, Anna can't remember anything about the night her lover's wife went missing. Though she's not proud of her affair, she isn't a killer. But little does Anna know, a dark, twisted game is about to unfold around her.
The Guilty Husband by Stephanie DeCarolis
Vince Taylor has the perfect life: a wonderful wife, a beautiful home, and a successful career. But when one of his interns, Layla, is found dead, all eyes are on him. Suddenly his perfect life starts to unravel, as a media circus ensues. Vince may have been guilty of having an affair with Layla, but is he also guilty of something far more sinister?