By Sherry Harris
If you can't get to the beach this summer you can at least visit it with a beach read. From Beer to Eternity is the first book in the Chloe Jackson Sea Glass Saloon mystery series. It's set in the small town of Emerald Cove, Florida in a beach bar on the panhandle of Florida. Chloe went from children's librarian in Chicago to bar server faster than you can check out a book. And while she's adjusting to her new life you can root her on with a perfect summer drink!
Tart Lemon Cocktail or Mocktail
Ingredients
Lemons (about four) juice and strain out pulp (some will be left) and seeds*
12 ounce can frozen lemonade (make following instructions on the can)*
Lemon Slices for garnish
Sugar
Ice
Vodka (unflavored) or sparkling lemon water
Tart Lemon Base Instructions
1 cup lemonade
2 ounces lemon juice
½ teaspoon sugar**
2 cups ice
Blend all ingredients together in a blender
Tart Lemon Vodka Cocktail Instructions
Make the base mix add 2 ounces of vodka and stir
Take a lemon slice and run it around the edge of a rocks glass
Fill glass halfway and float the lemon slice on top or tuck it on the rim as a garnish
Makes about four cocktails
Tart Lemon Mocktail Instructions
Fill a glass halfway with the base mix
Add 2 ounces sparkling lemon flavored water
Stir gently
Take a lemon slice and run it around the edge of a rocks glass
Fill glass halfway and float the lemon slice on top
*You will have extra lemon juice and lemonade for your next batch!
**Add more sugar if you like a sweeter drink
If you are feeling adventurous you can basil, uses fresh rosemary as a swizzle stick, or add lavender
---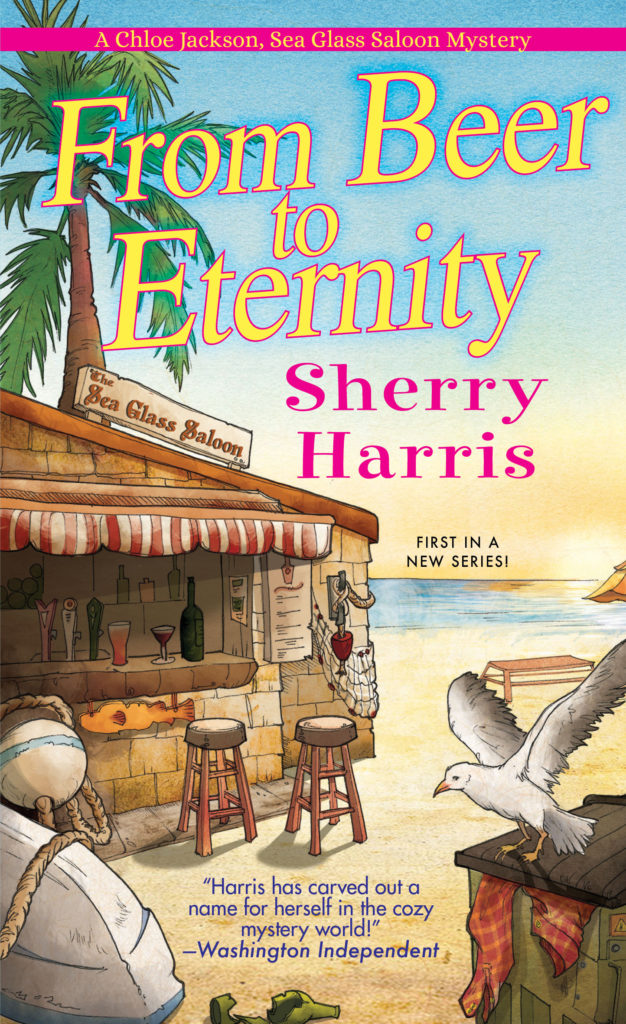 A whip smart librarian's fresh start comes with a tart twist in this perfect cocktail of murder and mystery—with a romance chaser.
MURDER ON TAP

With Chicago winters in the rearview mirror, Chloe Jackson is making good on a promise: help her late friend's grandmother run the Sea Glass Saloon in the Florida Panhandle. To Chloe's surprise, feisty Vivi Slidell isn't the frail retiree Chloe expects. Nor is Emerald Cove. It's less a sleepy fishing village than a panhandle hotspot overrun with land developers and tourists. But it's a Sea Glass regular who's mysteriously crossed the cranky Vivi. When their bitter argument comes to a head and he's found dead behind the bar, guess who's the number one suspect?

In trying to clear Vivi's name, Chloe discovers the old woman isn't the only one in Emerald Cove with secrets. Under the laidback attitude, sparkling white beaches, and small town ways something terrible is brewing. And the sure way a killer can keep those secrets bottled up is to finish off one murder with a double shot: aimed at Chloe and Vivi.