by Kate Clayborn
I don't know about you all, but every year when August 1st comes around, I'm already thinking about the end of summer. Maybe it's that I'm burned out on the heat and humidity (whew, this summer especially!), maybe it's that summer travel and holiday events seem to have wound down, maybe it's that, each August, my daily schedule starts to look more complicated again. When this time of year hits, I'm always craving a certain type of romance.
Namely, the short kind.
Ever since I started reading romance, I've loved novellas. And I feel so lucky to read widely in a genre where novellas—usually, books of about 35,000 words or less—are pretty standard. Novellas are so often exactly what I need during busy times, or times when I'm struggling to concentrate. And the best ones give me the exact same reading experience as a full-length romance: the characters are realized, the world-building is immersive, and the love story is complete and completely satisfying. Once upon a time, Kensington even offered me the amazing opportunity to write my own (it's called Missing Christmas), and it was one of those most rewarding writing experiences of my career!
So, as we wind down the summer, I thought I'd share some of my favorite romance novellas with you! For everything I recommend, I would always suggest taking a quick spin through author websites and/or Goodreads if there are certain topics/tropes you'd prefer to avoid in your reading.
I'll start with a writer who I think is a master of this genre: Ruby Lang. Recently, Ruby released three novellas which are collectively known as "The Uptown Collection." Each novella in this series is a masterwork, with your favorite romance tropes deployed in a totally fresh way. Playing House features a fake relationship in service of the cutthroat New York City real estate market; Open House is enemies-to-lovers surrounded by the most endearing community garden imaginable; and, my personal favorite in the series, House Rules, has a divorced couple reuniting for the benefit of a sweet deal on a Harlem apartment.
If you also love a second-chance or marriage-in-trouble contemporary romance, you might also try Laura Florand's Turning Up The Heat, especially if you're still looking for vacation vibes in your August reading. This one features a married couple who have drifted apart as the husband's demanding career as a celebrity chef has taken off. It's one of the first marriage-in-trouble romances I ever read, and it holds a special place in my heart! If you're fond of epistolary romances with a contemporary spin, try Simone Stark's Written on His Skin.
Now, if historical romances are your jam, you're in luck, because there are so many great ones. If you're in the mood for the winter holidays while you're still battling the heat, you might try Courtney Milan's magnificent A Kiss for Midwinter, which sees the cheerful Lydia Charingford having to confront a young doctor whom she believes once judged her harshly. This is such a delicately crafted novel, dealing with issues that are painfully relevant to us even today. Those of you who follow me on twitter (@kateclayborn) know that there's no Christmas novella I recommend more than Cecelia Grant's A Christmas Gone Perfectly Wrong—there's no wrong time of year to read this masterpiece! Two of my all-time favorite historical novellas come from Alyssa Cole: Let Us Dream and Let It Shine. The former is set in 1917 and the latter is set in the 1960s.
One subgenre I've only recently dipped my toe into is fantasy—and novellas have been an amazing way to get a sense of what I enjoy. I loved Milla Vane's The Beast of Blackmoor and Kati Wilde's Dead Lands novellas. These books gave me an introduction to fantasy world-building and have encouraged me to seek out other similar titles!
I genuinely love romance novellas so much that I could go on and on, but my space here is limited, so one last suggestion I'll make is that you keep an eye out for romance novella anthologies—these can be a great way to get multiple novellas from some of your favorite authors all in one fell swoop. Some of my favorite anthologies include He's Come Undone (featuring the incredible work of Emma Barry, Olivia Dade, Adriana Herrera, and Cat Sebastian) and the scandalously named Duke I'd Like To F— (featuring works by Sierra Simone, Joanna Shupe, Adriana Herrera, Nicola Davidson, and Eva Leigh). A classic holiday novella anthology is How the Dukes Stole Christmas (with works by Sarah MacLean, Tessa Dare, Joanna Shupe, and Sophie Jordan).
I hope this gets you started with recommendations for those days where a full-length romance simply doesn't fit in with your plans or your vibes. Wishing you all the best for a restful rest of your summer…happy reading!
---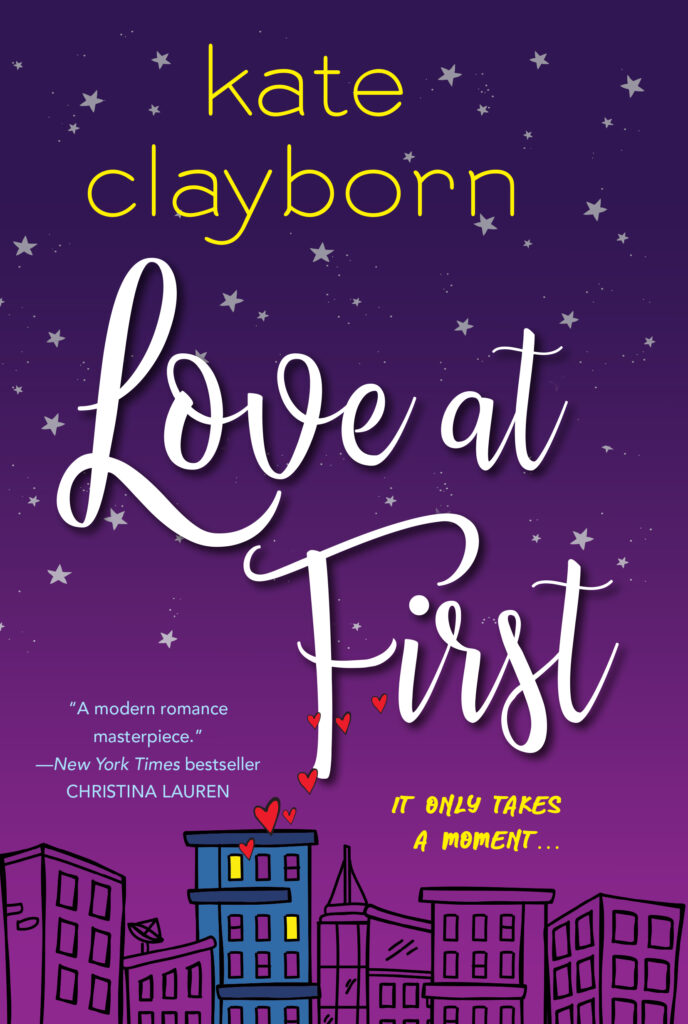 "Delicious and beautiful and perfect."
—New York Times bestseller Sarah MacLean on Love Lettering

From Kate Clayborn, the acclaimed author of Love Lettering, comes a sparkling, tender novel about bickering neighbors, surprise reunions, and the mysterious power of love . . .

Sixteen years ago, a teenaged Will Sterling saw—or rather, heard—the girl of his dreams. Standing beneath an apartment building balcony, he shared a perfect moment with a lovely, warm-voiced stranger. It's a memory that's never faded, though he's put so much of his past behind him. Now an unexpected inheritance has brought Will back to that same address, where he plans to offload his new property and get back to his regular life as an overworked doctor. Instead, he encounters a woman, two balconies above, who's uncannily familiar . . .

No matter how surprised Nora Clarke is by her reaction to handsome, curious Will, or the whispered pre-dawn conversations they share, she won't let his plans ruin her quirky, close-knit building. Bound by her loyalty to her adored grandmother, she sets out to foil his efforts with a little light sabotage. But beneath the surface of their feud is an undeniable connection. A balcony, a star-crossed couple, a fateful meeting—maybe it's the kind of story that can't work out in the end. Or maybe, it's the perfect second chance . . .