by Danny and Kate Tamberelli
HOW LONG HAD YOU BEEN SWIPING/USING DATING APPS?
Kate: Very long! Too long! I tried oh so many different modes of online dating. Tinder, of course, but OkCupid, Match, Coffee Meets Bagel. I'm sure I'm forgetting a few. I was single in NYC from the time I moved here in 2008 up until I met Danny in 2014, and I went on so (!) many (!) first dates in those years. Some second dates, and if things were going reeeally well, maybe fourth, fifth. Nothing past the tenth, though—that would have felt like were practically engaged, by NYC dating standards. I would go in cycles—devote loads of time to scouring whatever site/app I was on at the moment, go on lots of dates, and then, after hitting my quota of underwhelming dates, log off and take a long hiatus from dating altogether.
Danny: I'd been on for maybe six months. I liked to say I was using it for "comedic fodder," but I don't think anyone believed it. I did run into my fair share of people who were interested in going on a date with me because of my 90s TV background, so it felt like I had to label it all under the comedy guise to keep up my confidence and my morale to go on these dates. One person audio recorded our date and sent me a "copy for my records," too. It was all worth it, though! The awkward interactions, the hours spent swiping. (Worth it because I met Kate, obviously!)
WAS IT AN EASY SWIPE RIGHT?
Kate: Well, yes and no. Let's do "no" first. I was on a pretty heavy left swipe session, as I was wont to do, one left after another, tossing prospects into the bin, when my eye caught a Daniel and a strangely familiar auburn-haired man, just as my finger was already in full on left mode… and I realized then, heart sinking: HOLY SH*T THAT WAS DANNY TAMBERELLI. Long story very short, I'd dated someone just a little while before that who'd been a big fan of Danny's, so he was newly on my radar, and I was having all the nostalgic feels. I'd been a casual Pete & Pete and All That viewer, not a superfan by any means, but, it's hard to describe, I just… had this feeling that I'd made the very worst, most epic mistake ever, and I just had to make it right? So I did what any super-creep would do, and *deleted the app* so that I could start fresh, have another chance to find my Danny needle in the messy Tinder haystack. And a few days later… I did.
Danny: Oof. Tough question. This was directly placed into The First Date Prophecy from our real-life encounter. I was all in when I saw her profile… except for one picture. Kate was all dressed up to go out in this glittery little black dress, hair curled, make-up on. I usually didn't swipe right on what I deemed too "high maintenance." Completely and totally arbitrary, of course. It's a caption and photo app. Gotta go with the gut, though. And Kate's other photos and bio led me to believe that I was being a judgy dumdum… so, swipe right I did.
WHAT WAS YOUR MOST MEMORABLE IMPRESSION FROM OUR FIRST DATE?
Kate: Not to give away too many spoilers, but Danny was pretty darn late. A good half hour? Maybe more? (Definitely felt like more!) I was trying to be patient, sipping a whiskey, texting with a few friends who were convinced I was being catfished, and to his credit, Danny did text a few times to say he was running late. Something music and recording related. When he finally showed up, his beloved bass slung over his shoulder—"Blondie," as we'd soon be introduced—he was super sweaty. It was warm for the beginning of October, and he'd been running from the train to carve a few minutes off the late log. He unceremoniously took his flannel off and rubbed his sweaty face right there at the table. I was struck by how comfortable he was? How familiar he felt, and not just because I'd stared at him on screen as a kid. He sat down and felt at home with me from the beginning. (Note: many of these anecdotes are in the book, because I just could not resist dogging Danny further!)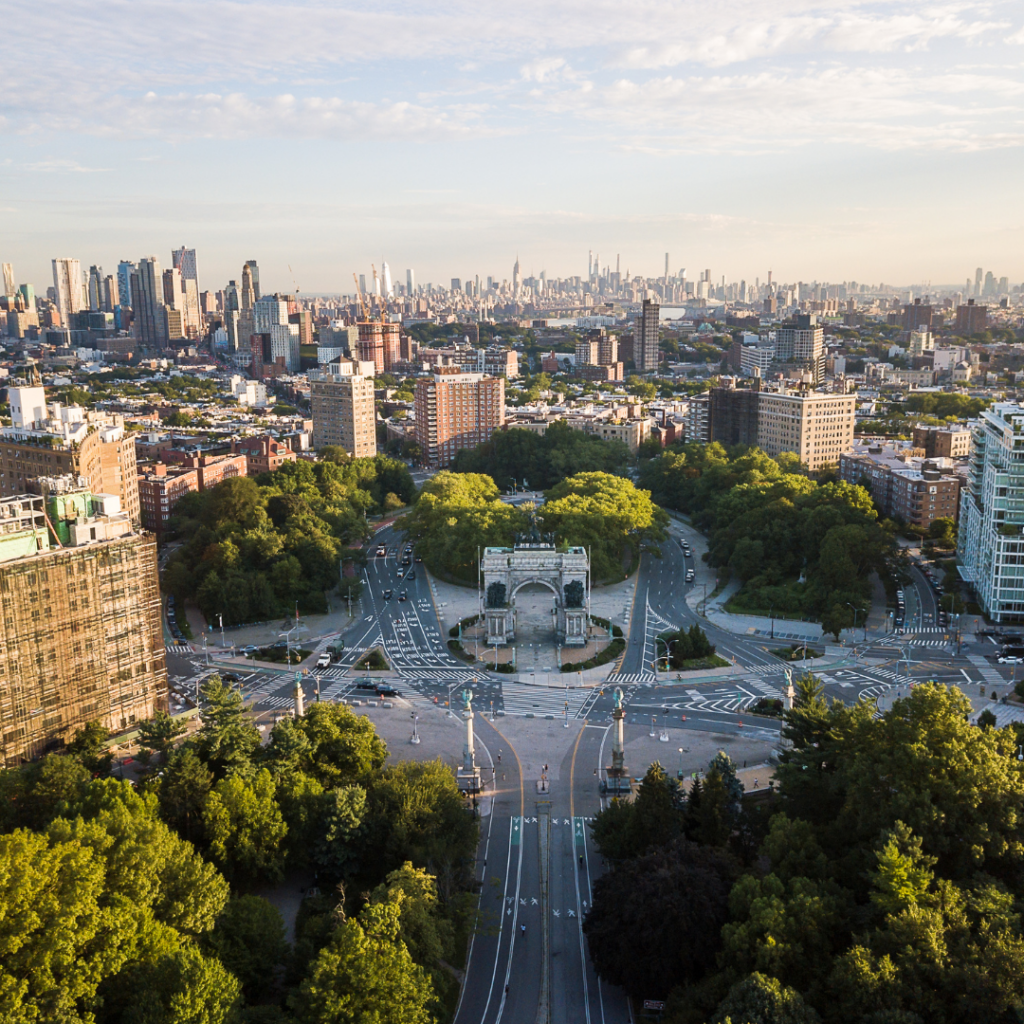 Danny: I was late. Very late. And sweaty. And through it all, I never once felt judged. A couple ribbing jokes here and there, but in the best way. I learned about her true personality in the blink of an eye, and it was amazing. We talked about so many things, getting weird about life, death, and living in Brooklyn. I shared that the only lady I was currently seeing was at the table with us, and proceeded to show her my bass, good old Blondie. She wasn't jealous. We shared a hug in front of the arch at Grand Army Plaza. The three of us. Might have hugged a second or third time. It was too late for me after the first one—forever smitten, just like that!
ARE YOU MORE OF AN ENEMIES TO LOVERS OR FRIENDS TO LOVERS FAN?
Kate: Friends to lovers in real life, for sure. I can't say I've ever dated an enemy, personally. (I'm not sure I know a single person who ended up with a former enemy? Is that a thing that happens in real life?! If so, I want to hear the stories!!!) But I can say now after finishing a draft for our second book together, which is at least a very one-sided enemies (she hates his guts with a fiery passion, he's blatantly unaware, at least for the most part) to lovers, I might lean toward writing enemies to lovers? Because that tension is just SO MUCH FUN to play around with, the push and pull. The salty banter! The cutting but also flirty barbs! That "I love to hate you, but I might love to love you even more" energy. That said, there's a particular challenge about writing friends to lovers and making it interesting and exciting, because it's inherently softer, gentler, calmer—less edge, at least to start. But it's a beautiful thing, watching two friends gradually realize they give one another the swoons.
Danny: I'm here for the least amount of drama in my personal life these days, but boy do I like to read and watch (and now write!) some struggling love stories. I had plenty of unrequited love in the past where I would try desperately to turn it around. Never true enemy, more one-sided frenemy situations. It ultimately never worked for me in any long-term capacity, but I'm happy to channel those past tensions for my writing now!
---
Danny Tamberelli, 90's Nickelodeon star from All That and The Adventures of Pete and Pete, teams up with his real-life wife Kate Tamberelli for a zany, big-hearted, and truly laugh-out-loud debut rom-com set in Brooklyn, steeped in 90's nostalgia, and inspired by their very own love story. Perfect for fans of Christina Lauren & Emily Henry!
"A joyous, nostalgic rom-com romp in which the authors' love for each other dazzles through." —Emily Wibberley and Austin Siegemund-Broka, authors of The Roughest Draft
Brooklyn-based aspiring writer Lucy Minninger has no trouble putting the comedy in her rom-coms. It's the romance part of the equation that's the problem. But even as the rejection slips pile up, and her second dates dwindle, Lucy refuses to give up hope—or her HeartThrobs™ dating profile . . .
Former child star Rudy Riziero made his mark on some of the most popular kids shows of the ՚90s. But that early success has pigeonholed him into a stand-up routine riffing on his past work, while the slick single life he envisioned was clearly a fantasy. He's actually ready for a relationship, if he could just find someone uninterested in who he used to be . . .
When Lucy and Rudy match online, they're eager to meet. But after their first date ends in a psychic's prophecy that is equal parts great fortune and certain doom, their flirty quips end and their search for answers to some of life's big questions begins: Is there really one person for everyone? Do destinies really intertwine? Where can you find the best tacos in Brooklyn?
And when it matters most, will they throw caution—and fate—to the wind, trust their instincts—and write their own futures?
"Will keep you entertained to the last page." —Melissa Joan Hart
"A beautiful, fun, and complex love story." —screenwriters Emily V. Gordon and Kumail Nanjiani (The Big Sick)
"This '90s nostalgia–tinged love story will leave rom-com fans smiling and swooning." —Library Journal STARRED REVIEW