What's your favorite time period in history to write about?
World War II.
If the main character of Churchill's Secret Messenger book was stranded on a desert island, what 3 items would they bring?
Rose Teasdale of Churchill's Secret Messenger would bring a supply of English breakfast tea, loads of scones, and a wireless transmitter.
If you could switch places with any character in Churchill's Secret Messenger who would it be?
I would switch places with Lazare Aron, a French Resistance fighter.
If Rose Teasdale had a Guinness world record, what would it be for? Rose Teasdale would hold the Guinness world record for the number of miles pedaled on a bicycle to avoid Nazi checkpoints.
What's your favorite recipe in Churchill's Secret Messenger?
Roasted salmon that was caught by Special Operation Executive candidates using plastic explosives.
If you could grab dinner with any character from Churchill's Secret Messenger, who would it be?
Winston Churchill.
You can only read one genre for the rest of your life. Which do you choose?
Historical Fiction.
Describe the main character of Churchill's Secret Messenger in 5 words.
A plucky typist turned saboteur.
What astrological sign is Rose Teasdale?
Aries. Considering Rose is a risk-taker and courageous, I think this astrological sign suits her well.
If you were to describe Churchill's Secret Messenger as a mashup of two other books currently on the market, what would they be?
The Alice Network meets The Tattooist of Auschwitz.
You're at a local coffee shop. What's your go-to drink order?
A red eye, coffee with a shot of espresso.
What are you currently reading?
The Fall of France by Julian Jackson.
---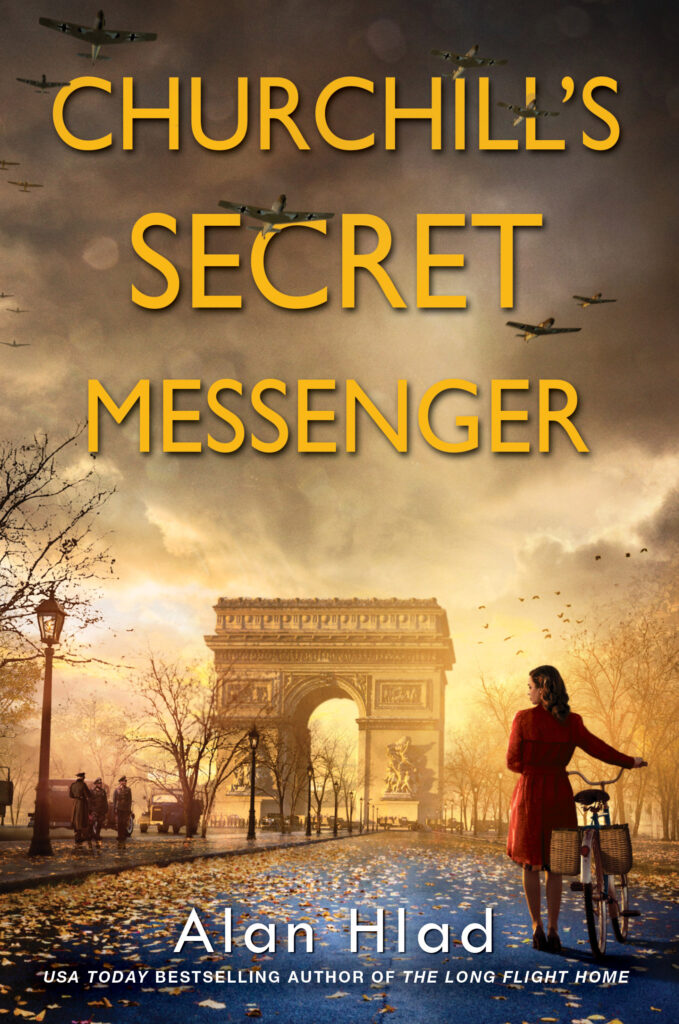 From the USA Today bestselling author of The Long Flight Home…Recruited from Churchill's typing pool to become an undercover spy in German-occupied France, a young woman from London bravely endures daring missions, audacious escapes, and harrowing imprisonment in a Nazi concentration camp, risking everything for the country–and the man–she loves.
London, 1941: In a cramped bunker in Winston Churchill's Cabinet War Rooms, underneath Westminster's Treasury building, civilian women huddle at desks, typing up confidential documents and reports. Since her parents were killed in a bombing raid, Rose Teasdale has spent more hours than usual in Room 60, working double shifts, growing accustomed to the burnt scent of the Prime Minister's cigars permeating the stale air. Winning the war is the only thing that matters, and she will gladly do her part. And when Rose's fluency in French comes to the attention of Churchill himself, it brings a rare yet dangerous opportunity.
Rose is recruited for the Special Operations Executive, a secret British organization that conducts espionage in Nazi-occupied Europe. After weeks of grueling training, Rose parachutes into France with a new codename: Dragonfly. Posing as a cosmetics saleswoman in Paris, she ferries messages to and from the Resistance, knowing that the slightest misstep means capture or death.
Soon Rose is assigned to a new mission with Lazare Aron, a French Resistance fighter who has watched his beloved Paris become a shell of itself, with desolate streets and buildings draped in Swastikas. Since his parents were sent to a German work camp, Lazare has dedicated himself to the cause with the same fervor as Rose. Yet Rose's very loyalty brings risks as she undertakes a high-stakes prison raid, and discovers how much she may have to sacrifice to justify Churchill's faith in her…