by Nancy Coco
Fall is my absolute favorite time of year. The weather turns cooler, and the air is clearer. It's fall festival time with hayrack rides, bonfires, and homecoming parades. With the cooler weather comes the chance to get back into the kitchen to create fun new recipes.
One I have been working on recently is pumpkin spice fudge. I love the sweet flavor of pumpkin mixed with the pie spices to create a slice of Fall.
Ingredients
One 14 oz can of sweetened condensed milk
2 12-ounce bags of white chocolate chips
1 ½ teaspoons of pumpkin pie spice
1/4 teaspoon salt
2 cups confections sugar
2 tablespoons of pumpkin puree
½ tablespoon butter
Instructions
In a double boiler (for best results) or a medium saucepan, heat sweetened condensed milk, and chocolate chips until the chocolate is melted and the mixture is smooth. Remove from heat. Add pumpkin pie spice and salt and stir until combined. Pour into a butter 8x8x2 inch pan.
In a small bowl, mix confectioners' sugar, pumpkin puree, and butter until creamy and smooth.
Make 16 small wells in the fudge in an 4×4 pattern. Spoon in pumpkin mixture. Swirl into fudge with a knife. Refrigerate for two hours until set. Cut into one-inch pieces. Enjoy this beautiful taste of Fall.
---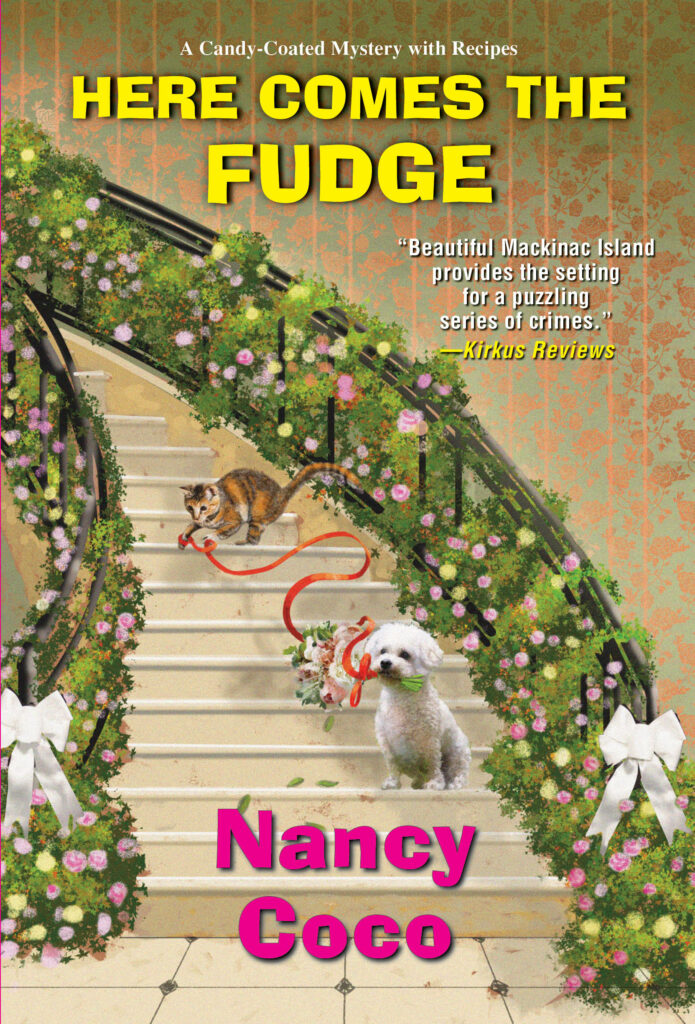 Fudge shop owner Allie McMurphy never expected her maid of honor duties to include clearing the groom of murder…

THE BODY OF A CRIME

It's late spring on picturesque Mackinac Island, Michigan. Allie is prepping her Historic McMurphy Hotel and Fudge Shop for the start of the tourist season and her best friend Jenn's wedding. But when Jenn's fiancé Shane, a crime scene investigator on the island, misses a dinner date, the two friends go looking for him. Led by Allie's bichonpoo Mal into an alley, they come upon Shane standing over a body with a bloody knife in his hand. Shane won't say what's happened, just tells them to call 911. As the CSI is taken into custody by his colleagues, including Allie's beau Rex Manning, the fudge maker vows to prove her friend's fiancé is not a killer—before the ceremony turns into a jailhouse wedding…