By Maddie Day
Maddie Day here, delighted that No Grater Crime, the ninth Country Store mystery, is in the hands of readers. My previous post reminds you about Robbie Jordan's Country Store, Pans 'N Pancakes, and about places she hangs out in my fictional town of South Lick, in southern Indiana.
I hope you'll also find it fun to revisit places surrounding South Lick that have been featured in previous books in the series.
First, of course, is Aunt Adele's sheep farm out on Beanblossom Road. The farm sits outside town but is still within South Lick town limits. Adele's cottage has a rather wild English garden in front and a big vegetable patch behind. The sheep roam sloping fields, herded by Sloopy, Adele's border collie. A very special event takes place at the farm at the end of No Grater Crime!
Speaking of Beanblossom, it's an unincorporated village in Brown County near South Lick. The Beanblossom covered bridge is there, unfortunately the site of a murder. The area is also home to the Bill Monroe Bluegrass Festival grounds, and the Mennonite Church, which boasts a large sign reading, "Strangers Expected." (Note: none of this is fictional except the murder…)
Nashville is the Brown County seat of government and is about five miles from South Lick. It is a center for artists and tourists and is a delightful place to visit. Robbie heads over there regularly for errands, for sleuthing, and sometimes to the sheriff's department.
Gnaw Bone is another unincorporated area a little to the west of Nashville, with a name taken from a respelling of the early French trappers' moniker of Narbonne. True fact: you can get the best breaded pork tenderloin sandwich in the universe in Gnaw Bone.
Head south from Nashville and eventually you'll reach the hamlet of Story. A former town, all the buildings are now owned by the Story Inn. The general store currently housing a restaurant and a pub was the initial inspiration for the Country Store Mysteries, a tale I wrote about here.
Finally, we have Bloomington. It's a lovely college town about forty minutes west of South Lick hosting Indiana University's flagship campus. The big university hospital is there, as are cool restaurants, a food coop, contra-dancing opportunities, and so much more, and Robbie visits regularly. This author happens to love Bloomington, where her alter-ego Edith Maxwell's relatives settled in the early nineteenth century, with Edith's great-great-great grandfather Dr. David Hervey Maxwell being the founder of the university.
---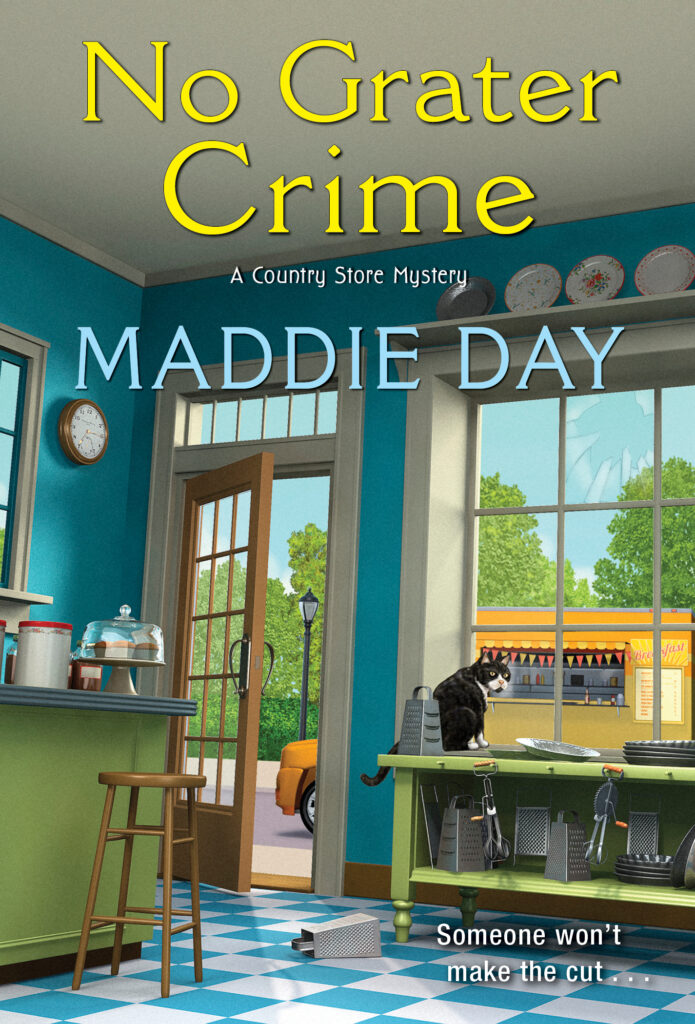 Robbie Jordan's Pans 'N Pancakes boasts delicious eats and the best vintage cookware finds in South Lick, Indiana. And now, for a limited time, there's a new special featured on the menu–murder!
Ever since meeting the wary owners of an antique shop opening across the street, Robbie has been scrambling to manage weird incidences plaguing her café and country store. Pricey items vanish from shelves without explanation, a fully equipped breakfast food truck starts lingering around the area each morning, and loyal diners mysteriously fall ill. When an elderly man dies after devouring an omelet packed with poisonous mushrooms, Robbie must temporarily close down Pans 'N Pancakes and search for the killer with a real zest for running her out of business–or else.