By Maddie Day
Nacho Average Murder is set in Santa Barbara, California. I'm a native of the state but grew up about ninety miles south in the Pasadena area, and if I ever explored Santa Barbara, it was a long time ago.
So my sweetie and I hopped a plane west from Massachusetts in February, 2019, and spent a delightful week on the American Riviera, as the SB Chamber of Commerce likes to call the city. It really is a jewel, nestled between the mountains and the Pacific Ocean. I had completed the first draft of the book and brought a list of places I wanted us to visit.
There's nothing like being there – and at the right time of year – to check the smells, the sounds, the sights, and what's in bloom. Because Google gets you only so far.
Here's a partial list of the places I wanted to hit:
UU church
County Coroner's office
Hendry's Landing restaurant
Giant Moreton Bay fig tree
McConnell's Ice cream, 728 State Street
Mission at sunset, what mountains look like.
Beach
Pier, ice cream place, palm reader
Tuesday Farmers market
Goleta and USCB
Central Library
Alice Keck Park
Sue Grafton's home
Museum of Natural History
County Courthouse
When you read the book, you'll see why. We knocked off all of them!
The first night, we met an old high school friend and her husband at Hendry's Landing, a fabulous restaurant at Arroyo Burro Beach where I'd taken my mom nearly every time I'd gone out to visit her in Ventura twenty miles south.
We visited the Mission, which is stunning set against the Santa Inez mountains.
A suspenseful scene is set in the olive grove that has stations of the cross, so I had to see that, too.
We wandered around Alice Keck park, where Robbie meets a friend of her mom's who says he thinks Jeanine was murdered, and we visited the library and the fabulous county courthouse, climbing all the way to the top of the tower just like Robbie did.
We stopped by Jeanine's place of worship, the UU church, too. I love all the traditional Spanish architecture, whether it's old or a new recreation.
We walked on the beach, seeing lots of my beloved pelicans, and out on the pier.
And yes, my description of Madame Allegra's shop are taken directly from the one on the pier.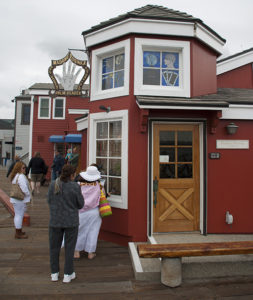 We couldn't go without a stop into McConnell's ice cream, of course, and ate SO many delicious meals.
We even drove by the coroner's office, just because.
And we added on a drive by the late, great Sue Grafton's estate in neighboring Montecito. Because Robbie did, and because Ms. Grafton is one of the reasons I write a strong female sleuth.
I hope you'll enjoy your own adventurous visit to Santa Barbara through Robbie's eyes – and taste buds!
---
Robbie Jordan is temporarily leaving Pans 'N Pancakes, her country store in South Lick, Indiana, to visit Santa Barbara, California—where wildfire smoke tinges the air, but a more immediate danger may lie in wait . . .

While looking forward to her high school reunion back in California, Robbie's anticipation is complicated by memories of her mother's untimely death. At first, she has fun hanging out with her old classmates and reuniting with the local flavors—avocados, citrus, fish, and spicy Cali-Mex dishes. But then she gets wind of rumors that her mother, an environmental activist, may not have died of natural causes. With the help of friends, Robbie starts clearing the smoke surrounding the mystery—but what she finds could make it hard to get back to Indiana alive . . .
Includes Recipes for You to Try!