by Lynn Cahoon
I've always wanted to stop at those houses that have the neon crystal ball shining in the front window. What's my future going to be like? Will I be happy? Will I find love? Will I have a dozen kids or an amazing career? It was the what if's that stopped me. What if my future was going to be short? Or I'd be horribly unhappy? To find my answers, I always visited the Madam Zelda in a box when I went to Seattle's Pike Place Market for my future on a card.
I believe that being a positive person is a choice. I read my horoscope, but I try to put a spin on the bad news. (I'm a writer, I make up my own rules.)
One weekend a few years back, I went to a monthly flea market when my husband was out of town working. He's not much on wandering through and looking for treasures in a sea of junk. Me? It's my happy place. And I was going to have lunch out by the Mississippi River and make it a 'Lynn' day.
In a hallway, I found a tarot card reader. She was sitting alone, shuffling cards. Her sign said I could get a reading for $20 and it was 'Lynn' day, so I pulled out the cash and sat down. She started some conversation which I limited because I didn't want to give her any 'clues'. Okay, I might be interested in the way of woo-woo, but I'm also skeptical. As my character, Esmeralda (from Tourist Trap) would say, a lot of fortune telling is about reading people and seeing what they react to as your talking. 
We talked about us being new to Alton (the most haunted city in the US) as well as a famous haunted house being on the same road as our new house, just a few blocks down. I told her I wanted to do one of the ghost tours, but she warned me against it, saying the ghosts might follow me home. This advice, I took. I've seen things I couldn't explain and didn't want to have them around when I was trying to make dinner or write.
The reader asked if I liked gardening. I laughed and said not at all. I don't like the feel of the dirt as it dries on my hands. I know, weird, but that's my reason. She also said someone was lying to me and I was going to have to make a decision soon. Those are the two predictions she gave me that stuck. And, both wound up being true.
I didn't like gardening, but my maiden name was Gardner. And the lie, it was a big one that rocked my world for a bit. But like she said, I had the power to change the relationship and that helped.
I write a series with a recurring character who's a fortune teller (Tourist Trap) and now I'm bringing in a tarot reader in the Survivors' series to entertain festival goers as they cool down in the hydration station next to Rarity's book tent. In both cases, the tarot reading is a way for people to make sense of their lives. After fighting cancer, sometimes a little woo-woo is what you need. Darby's reading doesn't comfort her, but she's looking within for answers rather than to the people around her.
No spoilers here, but I think the tarot reading gives Secrets in the Stacks a fun way of looking at our need to look into the beyond and assure ourselves that we're okay and our futures are going to be bright. Even if we are the ones who need to make it happen.
---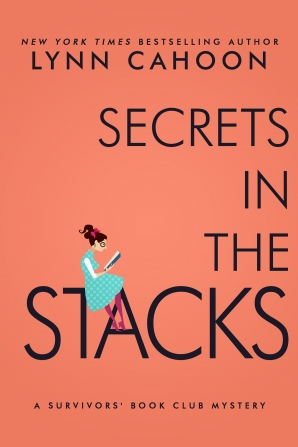 After an ominous Tarot reading, Sedona bookstore owner Rarity Cole must find a killer to keep her friend safe from harm—even if the cards are stacked against her . . .
Following her recovery from breast cancer, Rarity has embraced a life of healing and service in her Sedona, Arizona, community. She welcomes the opportunity to participate in the annual summer healing fair with her fittingly named new-age bookstore, The Next Chapter. The members of the Tuesday Night Survivors' Book Club are also volunteering, maintaining a cooling station for overheated festivalgoers, and hosting a Tarot card reader for entertainment.
But one member, Darby, is anything but entertained when the Tarot reader pulls a Death card. With a mammogram coming up, she's freaked out and goes home—only to walk into a crime scene where someone near and dear to her has been murdered. Despite the objections of Detective Drew Anderson, Rarity is determined to help her friend and protect her from being the killer's next victim . . .