We celebrated three bestselling Historical Mystery authors with an exclusive live panel in our Between the Chapters book club!
Watch a recording of our conversation with Alyssa Maxwell, Andrea Penrose, and Anna Lee Huber:
---
In the autumnal chill of Newport, Rhode Island, at the close of the nineteenth century, journalist Emma Cross discovers an instance of cold-blooded murder on the grounds of a mansion…
Following the death of her uncle, Cornelius Vanderbilt, in September 1899, a somber Emma is in no mood for one of Newport's extravagant parties. But to keep Vanderbilt's reckless son Neily out of trouble, she agrees to accompany him to an Elizabethan fete on the lavish grounds of Wakehurst, the Ochre Point "cottage" modeled after an English palace, owned by Anglophile James Van Alen.
Held in Wakehurst's English-style gardens, the festivities will include a swordplay demonstration, an archery competition, scenes from Shakespeare's plays, and even a joust. As Emma wanders the grounds distracted by grief, she overhears a fierce argument between a man and a woman behind a tall hedge. As the joust begins, she's drawn by the barking of Van Alen's dogs and finds a man on the ground, an arrow through his chest.
The victim is one of the 400's most influential members, Judge Clayton Schuyler. Could one of the countless criminals he'd imprisoned over the years have returned to seek revenge–or could one of his own family members have targeted him? With the help of her beau Derrick Andrews and Detective Jesse Whyte, Emma begins to learn the judge was not the straight arrow he appeared to be. As their investigation leads them in ever-widening circles, Emma will have to score a bull's eye to stop the killer from taking another life…
The upcoming marriage of the Earl of Wrexford and Lady Charlotte Sloane promises to be a highlight of the season, if they can first untangle—and survive—a web of intrigue and murder involving the most brilliant scientific minds in Regency London…


A thrilling new mystery novel from the acclaimed author of Murder at Queen's Landing, perfect for fans of Deanna Raybourn and Anne Perry! The wedding of the Earl of Wrexford and Lady Charlotte Sloane is not-to-be-missed, but the murder of a brilliant London scientist threatens their plans—and their lives…

One advantage of being caught up in a whirl of dress fittings and decisions about flower arrangements and breakfast menus is that Charlotte Sloane has little time for any pre-wedding qualms. Her love for Wrexford isn't in question. But will being a wife—and a Countess—make it difficult for her to maintain her independence—not to mention, her secret identity as famed satirical artist A.J. Quill?

Despite those concerns, there are soon even more urgent matters to attend to during Charlotte and Wrexford's first public outing as an engaged couple. At a symposium at the Royal Botanic Gardens, a visiting botanist suffers a fatal collapse. The traces of white powder near his mouth reveal the dark truth—he was murdered. Drawn into the investigation, Charlotte and the Earl learn of the victim's involvement in a momentous medical discovery. With fame and immense fortune at stake, there's no shortage of suspects, including some whose ruthlessness is already known. But neither Charlotte nor her husband-to-be can realize how close the danger is about to get—or to what lengths this villain is prepared to go . . .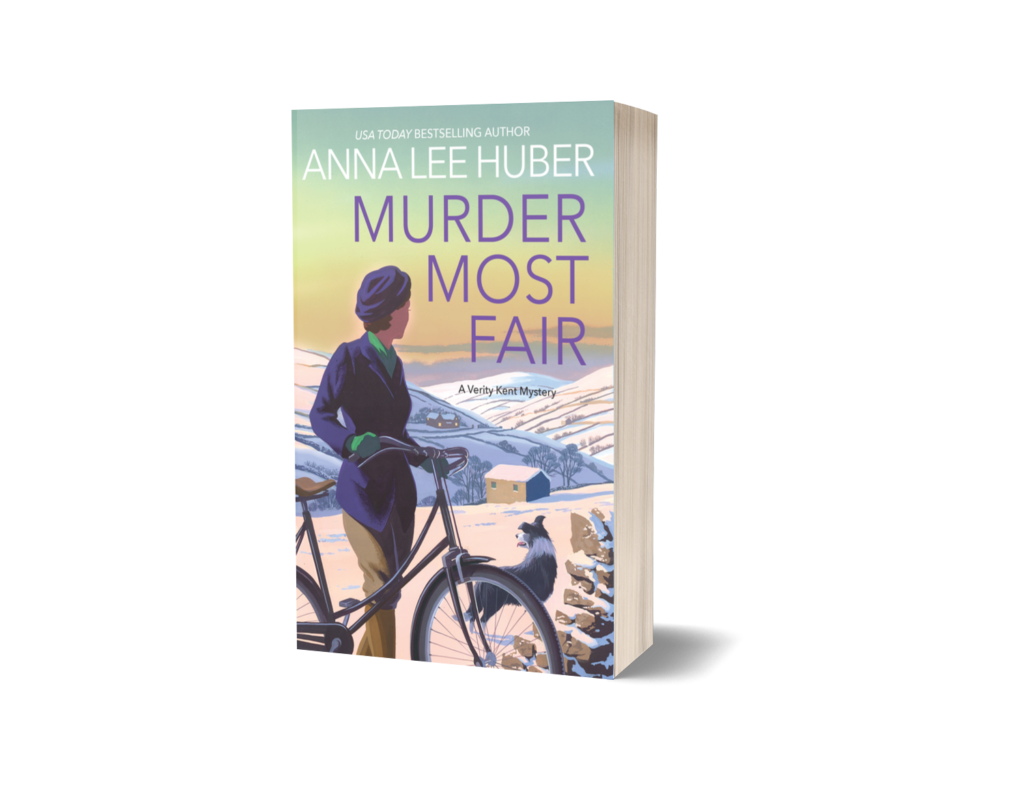 All is far from quiet on the home front in national bestselling author Anna Lee Huber's captivating mystery series, in which former Secret Service agent Verity Kent receives a visitor–who is being trailed by a killer…
November 1919. A relaxing few weeks by the seaside with her husband, Sidney, could almost convince Verity Kent that life has returned to the pleasant rhythm of pre-war days. Then Verity's beloved Great-Aunt Ilse lands on their doorstep. After years in war-ravaged Germany, Ilse has returned to England to repair her fragile health–and to escape trouble. Someone has been sending her anonymous threats, and Verity's Secret Service contacts can only provide unsettling answers.
Even deep in the Yorkshire Dales, where she joins Verity's family for the holidays, Ilse encounters difficulties. Normally peaceful neighbors are hostile, seeking someone to blame for the losses they've endured. When Ilse's maid is found dead, Verity must uncover whether this is anti-German sentiment taken to murderous lengths, or whether there is a more personal motive at work. Could Verity's shadowy nemesis, Lord Ardmore, be involved? And if so, how much closer to home will the blow land when he inevitably strikes again?