By Shana Abé
Most period images you'll find of Titanic's decks and interior are actually of her sister ship, the Olympic, which had a very similar layout and style. The few surviving images we have of Titanic herself were by and large taken by an Irish theology student named Francis Browne, who was given the gift (in more ways than one!) of a short voyage aboard the magnificent liner by his uncle. On April 10, 1912, Browne boarded Titanic in Southampton, England, the liner's first port of call, and he disembarked the next day in Queenstown, Ireland—her third (and ultimately, final) port of call. Instead of being the first of countless images captured by Titanic's awed passengers, Browne's snapshots of the ship and the people aboard it are practically the only ones known to exist.
Unlike modern cruise ships bent on impressing their passengers with glitzy, Vegas-style shows, Titanic had no theatres. My dear First Class Passenger, you may entertain yourself, thank you very much! But you may do so in very genteel, state-of-the art ways. Visit the library, with its books and card games*. Or the Smoke Room (gentlemen only, please!) for cigars and port. Take a peek at the gymnasium, with its modern electric horses and a rowing machine; or even have a go at the squash court hidden inside the belly of the ship.
Feeling truly adventurous? Indulge in a visit to the Turkish baths on F deck, where you may sweat yourself thin (and likely dizzy) in a series of successively hotter, elaborately tiled rooms, finishing it all off with a refreshing horizontal shower massage. (Yes, you must disrobe for the baths, but please! This isn't prudish Victorian England, it's glorious 1912! Besides, it's strictly ladies in the morning, gents in the afternoons. Let's be adults about this.)
Or try the amazing swimming bath, also on F deck, filled with heated saltwater from a storage tank situated all the way up on the sundeck.
But if all of that seems simply too extreme (especially for ladies laced up in tight corsets), sit a leisurely while in the Reading and Writing room, a Jacobean retreat of white and cream, of elegant tables and chairs and potted palms, and coffee and tea served amid the lovely, lustrous light. (Titanic's chief designer, Thomas Andrews, aboard for the maiden voyage, was said to be considering slicing away some of that Reading and Writing Room space and converting it into more [profitable!] first-class staterooms, as apparently the ladies weren't reading and writing in it enough for his taste.)
*Watch out for the professional cardsharps, savvy enough to book first-class tickets so that they might include themselves in the first-class poker games. They will be more than happy to relieve you of a sizeable chunk of your fabulous wealth.
---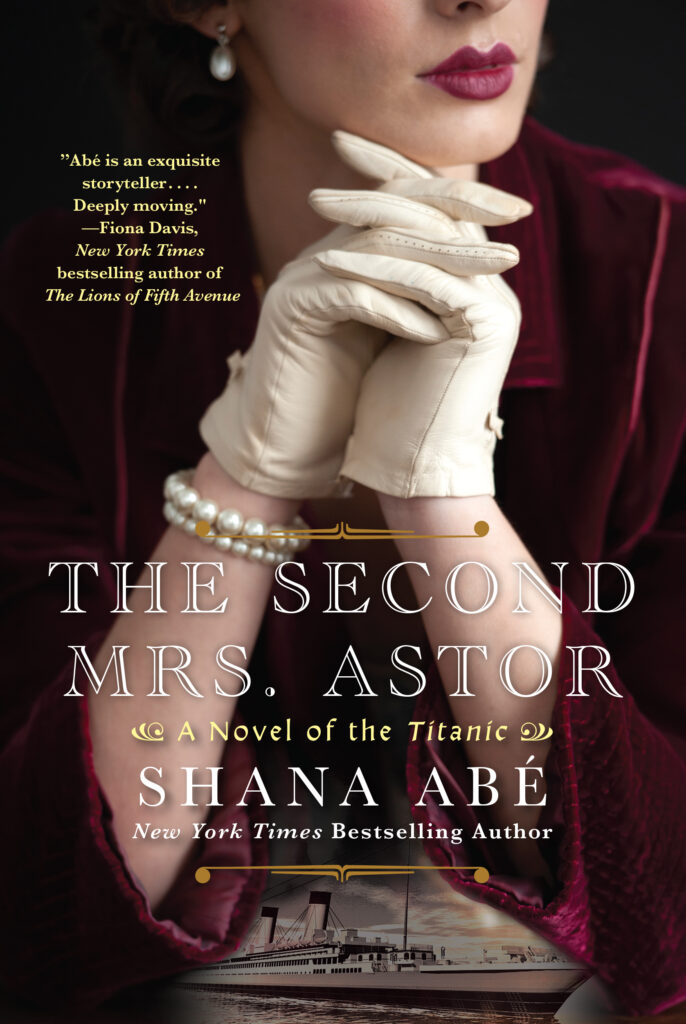 Inspired by the real-life Titanic love story between America's richest man and teenaged beauty Madeleine Force.

He was American royalty, the richest man in the country and Fifth Avenue scion of the Gilded Age. She was a vivacious teenage socialite suddenly and unexpectedly thrust into fame simply for falling in love with a famous man nearly three decades her senior. Brought to life in this sweeping work of historical fiction by New York Times and USA Today bestselling novelist Shana Abé, the love story between Jack Astor and Madeline Force, from scandalous courtship to tragic honeymoon aboard the Titanic, which made them the most famous couple of their time…
A mesmerizing novel of historical fiction from New York Times bestselling author Shana Abé, The Second Mrs. Astor tells the sweeping real-life Titanic love story of Madeleine Force, who became the teenaged bride of one of the world's richest men, and triumphed over tragedy and heartache.
"I won't begin with our ending, which everyone in the world knows anyway. Our beginning, however, belonged only to us…"
Madeleine Talmage Force is just seventeen when she attracts the attention of John Jacob "Jack" Astor. Madeleine is beautiful, intelligent, and solidly upper-class, but the Astors are in a league apart. Jack's mother was the Mrs. Astor, American royalty and New York's most formidable socialite. Jack is dashing and industrious–a hero of the Spanish-American war, an inventor, and a canny businessman. Despite their twenty-nine-year age difference, and the scandal of Jack's recent divorce, Madeleine falls headlong into love–and becomes the press's favorite target.
On their extended honeymoon in Egypt, the newlyweds finally find a measure of peace from photographers and journalists. Madeleine feels truly alive for the first time–and is happily pregnant. The couple plans to return home in the spring of 1912, aboard an opulent new ocean liner. When the ship hits an iceberg close to midnight on April 14th, there is no immediate panic. The swift, state-of-the-art RMS Titanic seems unsinkable. As Jack helps Madeleine into a lifeboat, he assures her that he'll see her soon in New York…
Four months later, at the Astors' Fifth Avenue mansion, a widowed Madeleine gives birth to their son. In the wake of the disaster, the press has elevated her to the status of virtuous, tragic heroine. But Madeleine's most important decision still lies ahead: whether to accept the role assigned to her, or carve out her own remarkable path.