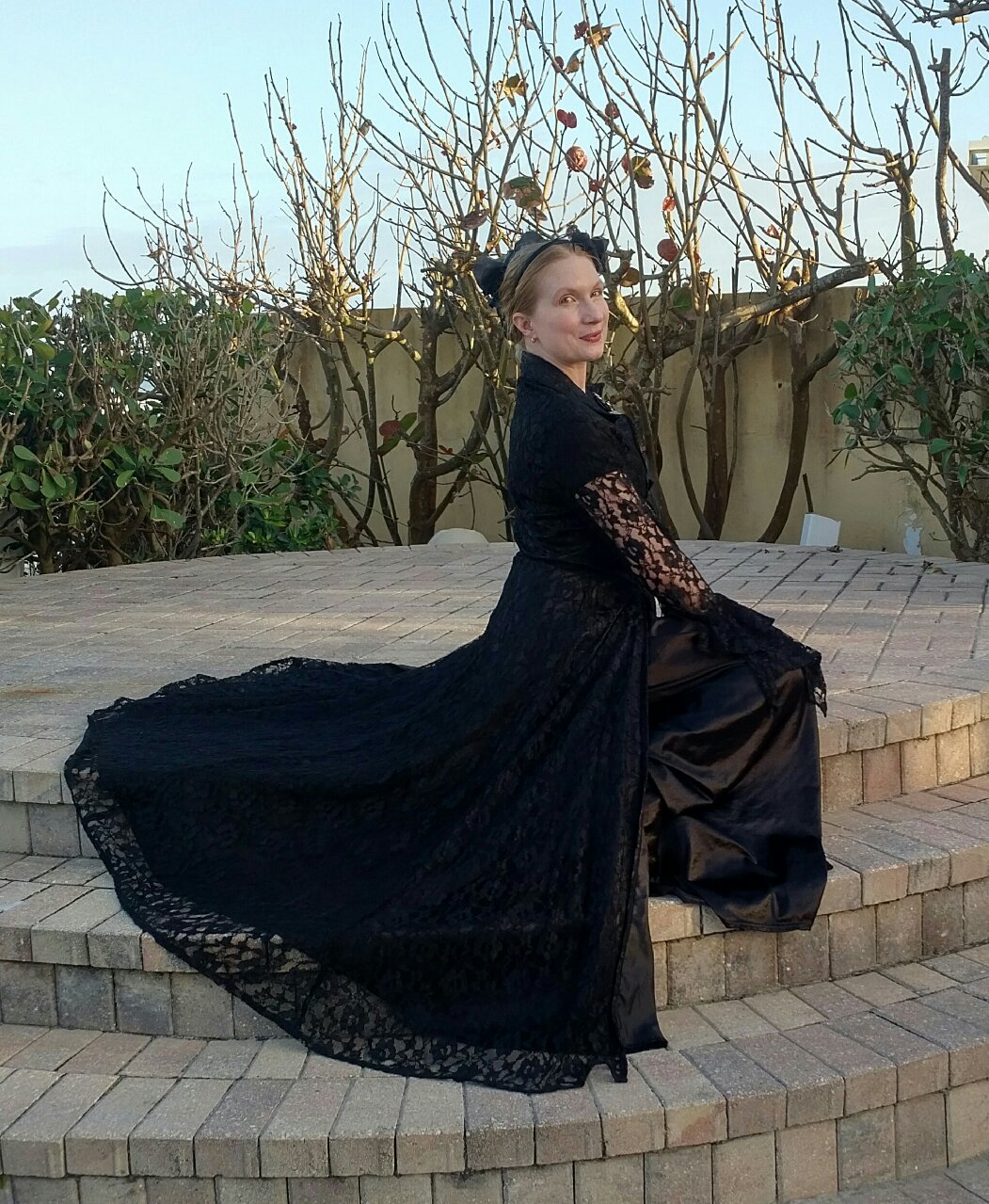 If you know me, you know I'm always dressed in some sort of vaguely antiquated regalia. It's not a costume, it's my life. My closet is a time-slip between 1980's Goth and 1880s Gothic. If you don't know me, now you know a very important thing about me that you can spot easily in a crowd. Yes, I'm the girl who looks like she's ready for an intense Victorian funeral 24/7. Hello! (Don't worry, don't let any somber finery fool you, I'm friendly.) Does this relate to books and book covers? Of course! My favorite line to say at any event is: "If you like my clothes, you'll like my books, I dress like I write." My books are very "me" and there isn't any pretense there. So, my style advice? Celebrate the authentic you as paired with your favorite things. Make anything you present be something from the heart. Merge your favorite art and your style as entwined.
In dressing like your favorite books, characters and book covers, think not only about the style of the cover but the spirit of the book itself and honoring the characters within. Not all my characters dress in the classic Gothic black, but many do, as does the heroine of The Spectral City, out of respect for her ghost colleagues, and she learned that trick from a few of my other characters who are Gothic performers. What I present in a visual, fashion representation is still all related to my world-building. I'm very familiar with the cosplay world and I relish the chance to live in other worlds by dressing in their honor.
The most important thing about any style advice is making choices that celebrate you, the individual. I'm not interested in people being anything but their authentic selves. Be you in whatever makes you comfortable, makes you feel fantastic, makes you externally radiate the awesomeness within you. What's your own personal take and version of a book cover? What's your interpretation of the world as celebrated in color, fabric, style and combinations? Take cues from the lines of a cover, is it full of angles or curves? Is it flashy or subdued? The possibilities are endless!
I've put this together for The Spectral City from my own wardrobe. I don't often wear color but when I do, it's in accent pieces like this scarlet-embroidered corset, which I feel is a perfect match for the intricate lines of the cover, in a field of beautifully detailed black; paired with a ruffled black blouse with a whispery, gauzy lace and embroidery long-sleeved shrug serving as a ghostly layer over the skin. I'd finish this outfit by selecting a long, voluminous black skirt with ruffles in mind of a bustled layer. If you're dressing in one color, my favorite trick to add interest and flair is to be sure there are layers, interesting stitching and differing textures as well as different fabrics that each can capture a difference in light and depth as you can see in these choices and in the other photos of my all-black outfits.
Regardless of what's 'trendy' in magazines or the press, I'll take interesting and unique any day over trendy. I look like an antique and always will, it's what speaks to my soul and that speaks to my books. Find your favorite time period, find your favorite cuts and lengths, find your favorite lines, move towards your favorite colors and patterns that are all your own, defined from your favorite things, and live in your beautiful details. Fashion is in the heart of the beholder.
---
Solving crime isn't only for the living.
In turn-of-the century New York City, the police have an off-the-books spiritual go-to when it comes to solving puzzling corporeal crimes. . .
Her name is Eve Whitby, gifted medium and spearhead of The Ghost Precinct. When most women are traveling in a gilded society that promises only well-appointed marriage, the confident nineteen-year-old Eve navigates a social circle that carries a different kind of chill. Working with the diligent but skeptical Lieutenant Horowitz, as well as a group of fellow psychics and wayward ghosts, Eve holds her own against detractors and threats to solve New York's most disturbing crimes as only a medium of her ability can.
But as accustomed as Eve is to ghastly crimes and all matters of the uncanny, even she is unsettled by her department's latest mystery. Her ghostly conduits are starting to disappear one by one as though snatched away by some evil force determined to upset the balance between two realms, and most important—destroy the Ghost Precinct forever. Now Eve must brave the darkness to find the vanished souls. She has no choice. It's her job to make sure no one is ever left for dead.
"There is something truly magical about Leanna Renee Hieber's writing." —Shana DuBois Barnes & Noble Sci-Fi/Fantasy Blog on Perilous Prophecy
"Smart, boundlessly creative gaslamp fantasy." —RT Book Reviews on Eterna and Omega
"Will have readers chomping at the bit for more." —Suspense Magazine on Eterna and Omega