By Sally Goldenbaum
Readers sometimes ask why so many cozy mystery writers structure their stories around a theme—like food or knitting or gardening or bookstores. Why isn't a plain old murder enough? Who needs herbs or bamboo needles or a trowel when you have a dead body?
Good question. And it has made me think about my own seaside knitters mysteries. How would the four protagonists in the seaside knitters mystery be different if they didn't knit, if they were simply "the seaside women." How would the mysteries be different?
Here are some of my thoughts:
In addition to exploring the intricacies of murder, the seaside knitters mysteries are about relationships and women's friendship. Izzy's yarn shop provides a kind of center for the four main characters, a place where Izzy, Cass, Birdie and Nell get together every Thursday night. They come together to knit, but also to to cry and laugh together, to soothe one another's spirits, to deepen their friendship in profound ways.
This knitting anchor also provides a metaphor for the way Nell, Birdie, Cass, and Izzy think. In A Crime of a Different Stripe they carefully and methodically knit together the pieces of a puzzle — an old man's peculiar behavior, a person's untimely demise, Sam Perry's uncharacteristic mood, and a famous photographer's past. Secrets to Izzy's husband's own past is discovered during a knitting session, and carefully knit into the mysterious murder.
And lastly, yarn is simply so tangible and visceral and sensual that it provides a feeling that can soften the harshness of murder and heighten the senses. Gathering in Izzy's yarn shop for dinner and knitting —sinking one's fingers into a basketful of Izzy's buttercup yellow cashmere yarn or savoring Nell's garlic grilled shrimp salad with fresh flakes of basil sprinkled on top and clinking together four glasses of Birdie's chilled pinot gris—are sure ways to stimulate and sharpen the senses. Perfect ingredients for solving murders.
Although readers of the seaside mysteries won't learn to knit as they join Izzy, Nell, Birdie, and Cass on a Thursday evening in the yarn shop, I hope they take away a feeling of mystery and puzzles, of friendship and caring—and also the urge to sink one's fingers into a tempting pile of cashmere and cotton and luxurious angora wool yarn.
Sally Goldenbaum is the author of more than three dozen novels, including the mysteries featuring the four seaside knitters. The series is set in a seaside town north of Boston wo which the author and her husband recently moved.
---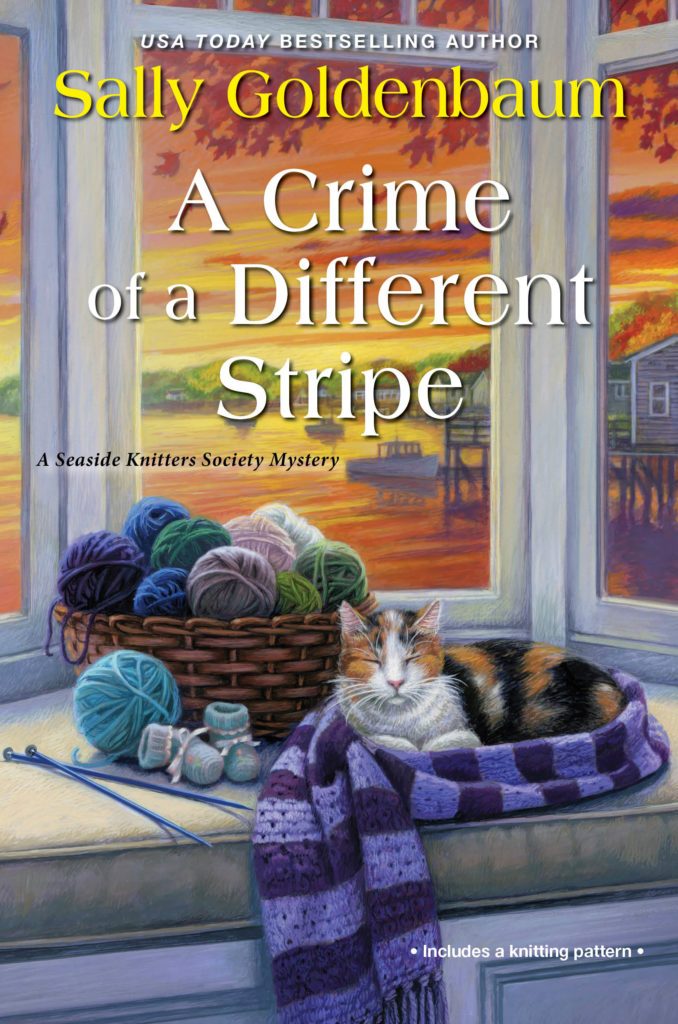 When a body is discovered at Sea Harbor's opening reception for the autumn art series, the Seaside Knitters must take a break from stitching baby gear to unravel a series of secrets in Sally Goldenbaum's 15th Seaside Knitters Society mystery.
While no-nonsense mother-to-be Cass Halloran tries downplaying her pregnancy and her frequent doctor's visits as an "older" mother-to-be, a softer side of the lobsterwoman emerges as she joins the Seaside Knitters in knitting an abundance of delicate hats and booties. But in contrast to the happy news, terrifying events unfold at the town's art series that puts a real chill in their New England fall…
Izzy Perry's husband Sam had reservations about inviting his one-time mentor Harrison Grant to speak at the opening reception, although he never imagined the famed and charismatic photographer would rudely embarrass his hosts that evening. But when a dead body turns up along the wooded shoreline the next day, startling secrets come into focus that could undo the tight-knit community of local artists…
With a mysterious murder pitting neighbors against each other, Izzy, Birdie, Nell, and a vulnerable Cass find themselves entangled in a dangerous hunt for answers. Can four best friends somehow tie together scattered clues and pacify a list of potential culprits before a cascade of fallen foliage buries the pièce de résistance of a ruthless killer?