Hey Everyone! Due to some technical difficulties, our Joanne Fluke Bake Off video did NOT go off without a hitch. That's okay though! I'm going to recap for you what audio you missed in the video and hopefully I can capture the essence of it all.
1. Steve and Adam introduce themselves and discuss their "off-the-cuff" strategy of how they were approaching the video. Run-through? These guys are professionals; they didn't need any of that!
2. After some deliberation, Steve and Adam started off with the Chocolate Chip Crunch Cookies from CHOCOLATE CHIP COOKIE MURDER made by our very own John Scognamiglio. *Note: the tasters did not know who made which dessert before the testing* Nods of approval and words of "delicious" and "I'm a big fan of chocolate chip cookies" were muttered and both judges agreed on the delightfulness of the cookies.
3. The next choice were the Fudge Cupcakes from FUDGE CUPCAKE MURDER. We had two of our colleagues make those – Claire Hill and Alicia Condon. There were exclamations of the light, airiness of Alicia's and Adam really enjoyed the "fudginess" of Claire's. There were little bones on Claire's cupcakes and a declaration of Kensington's love for Halloween was discussed!
ALICIA:
CLAIRE: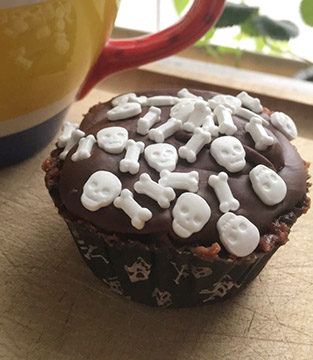 4. After the cupcakes, Steve and Adam decided on Mini Cherry Cupcakes from CHERRY CHEESECAKE MURDER made by Michele Santelices. Steve, having said chocolate was his sweet spot, turned a 180 and declared his true love was cheesecake. Adam said, "the fruit makes the cheesecake healthy, so that's good," and agreeing laughter greeted the statement, because we all knew how badly we wanted THAT to be true!
5. With only two choices left, they reached for the Banana Cream Pie from BANANA CREAM PIE MURDER baked by Kimberly Richardson. Steve said it was light and Adam really enjoyed the crunch of the crust – earning a derisive response from Steve saying, "What are you on a cooking show?" Adam let us know, that he of course has been preparing for his role as judge by watching cooking shows.
6. Finally, Adam and Steve pick up the Ooey, Gooey, Chewy Cookie Bars from CHERRY CHEESECAKE MURDER made by Michelle Forde. They chewed and contemplated the divine textures and tastes of the cookie bars. Although a little sweet, they thoroughly enjoyed the great blend of chocolate, coconut, and caramel. Steve joked with Adam about his cooking show lingo and a good laugh was had all around.
7. Steve and Adam discussed desserts at hand, and agreed that the Banana Cream Pie was the winner, with the Mini Cherry Cheesecakes following as a close second.
Steve and Adam were glad they had held off on lunch to devour all the sweet treats they were given and volunteered for any other bake-offs that will likely happen again. Kensington loves to show off their culinary chops and Joanne provides some great recipes!
Let us know what your favorite Joanne Fluke recipes are in the comment sections below and enter for your chance to win the fantastic flash giveaway we are running!!
There will be two winners.
White wire basket
Metal pie tin
Metal measuring spoons
Joanne Fluke Tea Kettle kitchen timer
SIGNED hardcover copy of CINNAMON ROLL MURDER
SIGNED hardcover copy of BLACKBERRY PIE MURDER
Hardcover edition of DOUBLE FUDGE BROWNIE MURDER
Paperback edition of RED VELVET CAKE MURDER
Hardcover CHRISTMAS CARAMEL MURDER
CLICK LINK TO ENTER: 
For a complete list of recipes, click here.