Nothing quite says fall to me like a New England fair, and my favorite one of all is the Sandwich Fair in New Hampshire, which takes place every year over Columbus Day Weekend. My uncle lives in Sandwich – where much of my first novel, Little Comfort, takes place – and I've been going to the fair for as long as I can remember. One of the most memorable years for me is 1981, when I was eleven.
That year, the whole town was abuzz because filming had completed on the movie version of On Golden Pond, which was shot on Squam Lake, and was due to be released in December. People had stories about seeing Jane Fonda at the local general store, or hearing Katharine Hepburn talking as she walked in the woods. The filmmakers were trying to keep a lid on the location of the lake, which the locals agreed to in theory – except they talked about it all the time. 
I didn't much care about the movie. What I did care about was my spice cake.
Like most fall fairs in New England, the Sandwich Fair is an agricultural fair, meaning there is sheep shearing and oxen pulls and, yes, bake offs. I proudly baked up a spice cake for the junior competition. So what if it was a tiny bit lopsided and I may have forgotten the ginger when I mixed it up? Who cares if the Tupperware I stored it in tipped over during the drive from Massachusetts? I'd made it. It tasted good. I knew I'd win.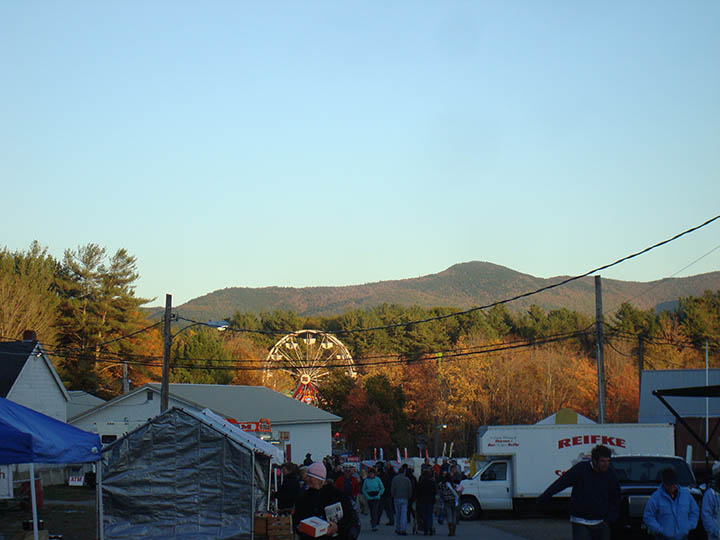 The highlight of the fair is a parade through the middle of town. My uncle drove his Model T that year. The Over the Hill Hikers marched, knobby knees and all. The parade ends with all a line of cattle (always put cattle at the end of a parade, by the way) starting with the smallest, and ending with oxen that have to weigh a few tons each. And then we all follow the animals into the fairgrounds to see how we did in the competitions.
So I bet you are asking how my spice cake fared in the baking competition. I came in third! That's pretty good, don't you agree?
How spice cakes do you think were entered that year?
Answer: 2
---
Download the Little Comfort Book Club Kit!
In a brilliantly twisted debut set among Boston's elite, Edwin Hill introduces unforgettable sleuth Hester Thursby—and a missing persons case that uncovers a trail of vicious murder . . .
Harvard librarian Hester Thursby knows that even in the digital age, people still need help finding things. Using her research skills, Hester runs a side business tracking down the lost. Usually, she's hired to find long-ago prom dates or to reunite adopted children and birth parents. Her new case is finding the handsome and charismatic Sam Blaine.
Sam has no desire to be found. As a teenager, he fled his small New Hampshire town with his friend, Gabe, after a haunting incident. For a dozen years, Sam and Gabe have traveled the country, reinventing themselves as they move from one mark to another. Sam has learned how trusting wealthy people can be—especially the lonely ones—as he expertly manipulates his way into their lives and homes. In Wendy Richards, the beautiful, fabulously rich daughter of one of Boston's most influential families, he's found the perfect way to infiltrate the milieu in which he knows he belongs—a world of Brooks Brothers suits, Nantucket summers, and effortless glamour.
As Hester's investigation closes in on their brutal truth, the bond between Sam and Gabe is tested and Hester unknowingly jeopardizes her own safety. While Gabe has pinned all his desperate hopes of a normal life on Hester, Sam wants her out of the way for good. And Gabe has always done what Sam asks . . .
Advance Praise For Edwin Hill And Little Comfort
"Fast-paced and riveting . . . takes off from the opening pages and never lets up. Don't miss this can't-put-down debut." –Carla Neggers, New York Times bestselling author
"In his compelling debut, Edwin Hill spins layer upon layer of intrigue as Hester Thursby, in the business of finding people who don't want to be found, takes on a job that turns out to be far more surprising and dangerous than she bargained for. This smart, complex, and suspenseful New England thriller will keep you turning pages far into the night." –Jessica Treadway, author of Lacy Eye and How Will I Know You?
"Compellingly plotted and compulsively readable, Little Comfort will leave you a little uncomfortable in the best of ways. Hester Thursby, its powerhouse protagonist, is tough, intriguingly flawed and complex. Edwin Hill's first effort is certain to be among the year's best debuts." –John Keyse-Walker, author of Beach, Breeze, Bloodshed
"A chilling mix of envy, deceit, and murder. Everyone is lying about something in this tense, stylish debut novel. . . . [It] will have you frantically turning pages until the final, breathless climax." –Joanna Schaffhausen, author of The Vanishing Season
"Little Comfort isn't just the arrival of a fantastic new book, but also marks the emergence of a spectacular writer to watch. This story had me hooked from the first chapter, and my nails bitten to the nub before I was halfway through. Watch out! Little Comfort delivers just what the title promises." –Bracken MacLeod, author of Stranded and 13 Views of the Suicide Woods
"Spectacular . . . this book is deftly crafted and its terrifying conclusion stayed with me long after I finished reading. Don't miss this one!" –Maggie Barbieri, author of Once Upon a Lie