Easy, right? Shop for presents, plan holiday meals, decorate the house, more shopping (those big holiday meals don't make themselves), squeeze in visits with friends, all while doing whatever else life demands—like work and family! Sound familiar? Yep, that was how I did it, too. By the time the holidays rolled around, I was often too wiped out to enjoy the celebrations.
So I decided to slow down and focus on a few things that particularly bring me joy, and to add more music into my life at this special time of year. I grew up in a family of music lovers, and that was especially true during the holidays. We listened to TONS of Christmas music, both classic and modern, and that tradition was a magic carpet ride straight to a festive holiday mood.
I've reinstituted that tradition in my household, going so far as to hunt down vintage CDs that are no longer available in stores or on-line, or aren't even on Spotify (the horror). I've also added more recent music for a mix of old and new.
Here are a few of my favorites to get me in the proper holiday mood:
Fred Waring and the Pennsylvanians, Now is the Caroling Season: Decorating the Christmas tree is job one for me, and this is ALWAYS the first music I put on to set the mood for that most important of holiday tasks. Fred has some truly corny chestnuts on this album, complete with jangling sleigh bells, but the Pennsylvanians have spectacular voices that bring a sense of beauty and majesty to the more traditional carols. And the rendition of Christmas Was Meant For Children is incredibly sweet. It never fails to remind me of my parents, and how special the holidays were when I was a little kid. I love the album cover, too, which is hilariously earnest and old school.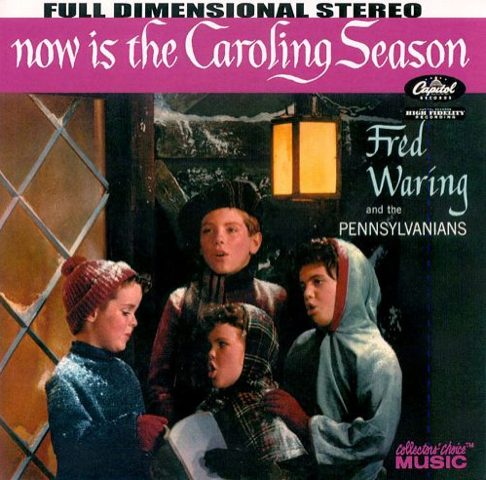 Annie Lennox, A Christmas Cornucopia: I adore Annie Lennox, and this album of mostly traditional Christmas carols is spectacular. Many of the arrangements are unusual, using African drums, marimbas, pan pipes, electric guitars, and even a glockenspiel. It's a crazy cornucopia that's both beautiful and inspiring, and Annie's voice soars. Universal Child, the final song on the CD and one written by Annie, usually generates a few tears, and makes me realize how lucky I am to spend the holidays with family and friends.
The Chieftains, The Bells of Dublin: This wonderful CD is a mix of classical and Celtic carols, and sort-of-holiday drinking songs. It also features guest performances by Elvis Costello, Jackson Browne, Marianne Faithfull, and the actor Burgess Meredith (the Penguin!). If you want to kick up your holiday music to another level, this is the CD to pick.
The Piano Guys, various: I love The Piano Guys, as do millions of fans around the world. They have an incredible talent for combining classically influenced music with pop hits, and producing amazing videos to showcase their work. For holiday music, they excel with unusual arrangements of traditional carols like I Saw Three Ships and Oh Holy Night. Even better, they post many of their gorgeously-produced videos on their website, so all can enjoy their virtuosity. Fun fact: some of their videos served as musical inspiration for my books, THE HIGHLANDER'S PRINCESS BRIDE and THE HIGHLANDER WHO PROTECTED ME. I listened to their version of Fight Song/Amazing Grace every day before I would work on PRINCESS BRIDE, and It's Gonna be OKAY (with the fabulous Cliff Richard) served as inspiration for THE HIGHLANDER WHO PROTECTED ME. You can see both these amazing videos on The Piano Guys website (https://thepianoguys.com/pages/videos).
To all my friends and readers, I wish you a very joyful—and music-filled—holiday season!
Love, Vanessa
---
Bestselling author Vanessa Kelly returns with an enthralling new series about the men of the Kendrick clan—and the women who claim their hearts . . .
Lady Ainsley Matthews, heiress and darling of the ton, was expected to make a magnificent match. Instead she's hiding on a remote Scottish estate, terrified that her vicious former fiancé will use her pregnancy to force her into marriage. One man can help her—Royal Kendrick, son of a distinguished Highland clan. Though a mistake drove them apart long ago, Royal is the only person Ainsley trusts to protect her baby—even if that means agreeing to never see either of them again . . .
Scarred in body and soul by war, Royal suddenly has a purpose—caring for an innocent babe and thereby helping the woman he can't stop loving. But when Ainsley ultimately returns to Scotland, determined to be a real mother to her child in spite of the risk, there's only one solution: marriage. And only one likely outcome: surrendering to the desire that's simmered between them for so long, no matter how dangerous it may be . . .
Praise for Vanessa Kelly's Improper Princesses series
"A thoroughly satisfying Regency romance." —Publishers Weekly
"An enjoyable, thoughtful romance." –Kirkus Reviews