By Alexandra Ivy
Once upon a time I used to spend the weeks leading up to the holidays in my kitchen trying to create the lovely plates of home cooked goodies that we all love to receive. I loved trying new recipes while I played Christmas music in the background. But while it was a fun way to get into the holiday spirits, it was also super stressful! Not only are the holidays a crazy, busy time, but I usually have family staying in my house. The last thing I want to do is spend my days in the kitchen when I could be enjoying time with them.
This year, I've decided to try something new. Instead of waiting for the holidays to make my homemade goodies, I've used the natural bounty from my garden to create my Christmas gifts.
This is the first year for my peach trees, so I was super pumped to try new recipes! I have peach pies and a cobbler in my freezer, but for gifts I decided to make jam. It turned out to be soooo tasty. The tang of the peach goes perfect with the sweetness of the jam.
Next I used my abundance of cucumbers to make frigerated dill pickles. These are easy-peasy to do, but if you want something that will last longer, you can tweak the recipe and use your canner so they'll be good through the winter.
And last, I love to make up small pots of homemade peanut butter. It's amazing how different it tastes from the store bought, plus you can get rid of the salt and keep the amount of sweetness under control.
Now, I get to pass out the gifts, while relaxing with family and friends. My new favorite cocktail to share is Sex With an Alligator 😉
Happy Holidays!
Peach Freezer Jam:
Ingredients
2 1/2 pounds fresh, ripe peaches
2 tablespoons lemon juice
1 1/2 cups sugar
5 tablespoons instant pectin
Instructions
Peel and coarsely chop the peaches. Place them in a bowl of a food processor and pulse until you reach a chunky puree. (Don't have a food processor? Simply use a potato masher to mash them up in a large bowl.) You should end up with about 3 1/2 cups of puree.
Pour the puree into a large bowl and add the lemon juice and stir well.
Add the sugar and stir until dissolved. Gradually add the pectin to prevent lumps and stir very, very well. (I like using a whisk here for this part.) Spoon the jam into clean jars with tight fitting lids ensuring you leave about 1/2 inch of space at the top of the jar to allow for expansion in the freezer. Allow the jars to sit a room temperature for 30 to 45 minutes to set. Store the jam in the refrigerator or the freezer. The jam will last in the refrigerator for 3 to 4 weeks and in the freezer for about a year.
Homemade Peanut Butter:
No recipe really needed. Just pour in a few roasted peanuts (I use Spanish peanuts because they're cheap) and add in a little nut oil (any type will do) plus I squeeze in some fresh honey that I get locally for sweetness.
Frigerated Dill Pickles: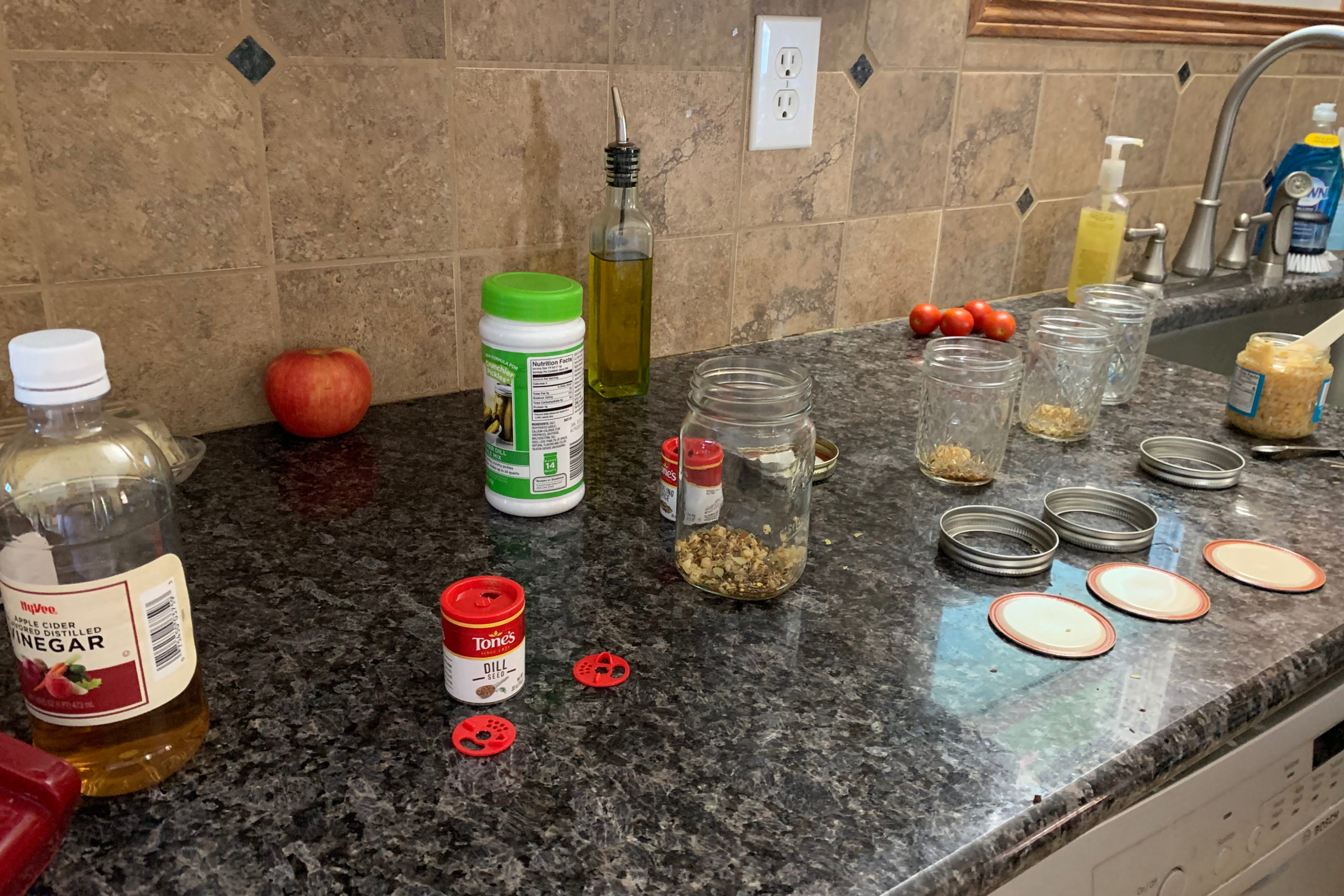 I've changed this recipe several times. This is just a basic idea. You can add or subtract the spices to suit your own taste.
INGREDIENTS
1-1/4 cupsdistilled white vinegar (I've also used apple cider vinegar and plain cider vinegar)
3 tablespoonskosher salt
2 tablespoonssugar
2 cupscold water
1-3/4 to 2 poundsKirby cucumbers (about 6), cut into halves or spears
2 tablespoonspickling spice
6 largegarlic cloves, peeled and halved
1 teaspoonmustard seeds
1/4 teaspoonred pepper flakes
16dill sprigs
INSTRUCTIONS
Combine the vinegar, salt and sugar in a small non-reactive saucepan over high heat. Whisk until the salt and sugar are dissolved. Transfer the liquid into a bowl and whisk in the cold water. Refrigerate brine until ready to use.
Place the cucumbers into jars (I use the smaller mason jars). Add the pickling spice, garlic cloves, mustard seeds, red pepper flakes, dill sprigs, and chilled brine into jars, dividing evenly. If necessary, add a bit of cold water to the jars until the brine covers the cucumbers. Cover and refrigerate about 24 hours, then serve. Cucumbers will keep in the refrigerator for up to one month.
Sex With An Alligator:
Sweet and sour mix
Melon liqueur
1⁄2 oz
Raspberry liqueur
1⁄2 oz
Jägermeister
Cocktail/Martini
Pour sweet and sour mix and melon liqueur into shaker with ice.
Shake and strain into glass.
Layer pour in raspberry liqueur.
Layer pour in Jagermeister.
Learn more about Alexandra Ivy's newest releases here: