Maya Corrigan
The cover of Gingerdead Man, my 7th Five-Ingredient Mystery, features traditional gingerbread men and one skeletal gingerdead man with white icing tracing his bones. This treat, popular around Halloween, strikes a jarring note at the tea party my sleuth Val hosts during the Dickens of a Holiday festival in her town.
Val's grandfather, the Codger Cook, would never bake gingerbread or gingerdead men. They require too many ingredients for his taste and too much time to roll out the dough, cut out the shapes, and decorate the cookies. His preferred gingerbread has 5-6 ingredients and is quick and easy to make. This bar cookie resembles the popular gingerbread baked from a secret recipe in the English Lake District town of Grasmere. And it's perfect for the winter holidays.
Adapted from English Food by Jane Grigson
Ingredients
1 cup + 2 tablespoons flour
1/2 cup + 1 tablespoon light brown sugar
1 1/2 teaspoons ground ginger
1/4 teaspoon baking powder
10 tablespoons butter
2 tablespoons chopped crystallized ginger (Optional, but highly recommended)
Instructions
Preheat the oven to 350 degrees.
Line a 7 X 11 inch oblong pan, or one of similar size, with parchment paper.
Mix the dry ingredients together.
Melt the butter and add it to the dry ingredients.
Add the chopped crystallized ginger to taste one tablespoon if you're not sure if you like it and two if you know you do. This recipe makes a crumbly gingerbread bar, and the chewiness of the crystallized ginger is a change and an added treat.
Spread the mixture over the pan in a thin layer, pressing it down lightly with fingers or the bottom of a glass.
Bake until golden brown – about 25-30 minutes.
Cut the gingerbread into squares or rectangles while the gingerbread is still hot, but leave it in the pan to cool before removing it.
---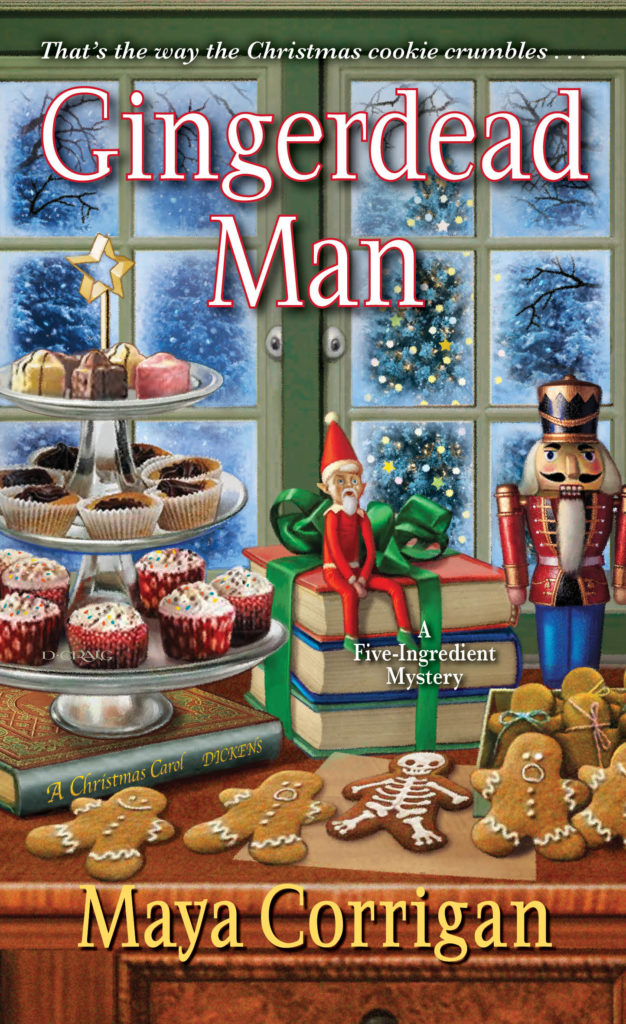 "Plenty of red herrings, mixed motives, and recipes for foodies make for a spirited holiday cozy."
—Kirkus Reviews

When Santa is sleighed by a poison gingerbread cookie at a holiday party, Val Deniston's reputation is on the line . . .

This holiday season Bayport, Maryland, is a dead ringer for Victorian London. Val and her grandfather are taking part in the Dickens of a Holiday festival. Val is hosting a private tea party serving the festival's costumed volunteers, who range from Dickens divas like Madame Defarge and Miss Havisham to Ebenezer Scrooge and old St. Nick himself.

But one costumed reveler may have gotten the holidays mixed up. The winner of the creepiest outfit, robed in black with a gift bag covering the head—okay, Ghost of Christmas Present, Val gets it—hands out gingerbread men with white icing skeleton bones. This year's sour Santa has none of the big fellow's mirth but plenty of his appetite, and it's no secret Santa loves cookies. But when the man in red turns blue, Val and Granddad have a cookie-cutter killer to catch before the New Year . . .

Includes delicious five-ingredient recipes!