By Susanna Craig
What inspires a writer of historical romance? History, of course! The behind-the-scenes battles of the Napoleonic wars, won and lost by spies. Regency-era manners and fashions. Popular television shows from the 1980s.
The books in my "Love & Let Spy" series all take their inspiration from of some of the TV shows I loved to watch at the same time I was falling in love with historical romance. And why not? They combine lots of similar elements: witty banter, electric sexual tension, and more than a dash of intrigue.
The first book in the series, Who's That Earl, reimages Magnum, P.I., which ran from 1980 to 1988 and starred Tom Selleck as Thomas Sullivan Magnum III, a Vietnam vet working in Hawaii as a private investigator and managing estate security for famous novelist Robin Masters. Fans of the show will remember the odd couple pairing between easy-going Magnum and the estate's stuffy British caretaker, Jonathan Quayle Higgins (John Hillerman), whom Magnum suspected of being the never-seen writer. I decided to transform that relationship into a second-chance romance, when spy Thomas Sutherland, stationed in the West Indies, unexpectedly inherits the title Earl of Magnus and is ordered to return home to his Scottish estate. There he discovers that his tenant, notorious Gothic novelist Robin Ratliff, is really his long-lost love Jane Quayle, masquerading as the widowed Mrs. Higginbotham, the writer's secretary. Though Thomas initially intends to leave the estate in the hands of a caretaker, the arrival of a threatening letter gives him the perfect excuse to stay, protect Jane, and rekindle their romance.
I had loads of fun reworking some of the details of the series to fit my story. Higgins's fierce Dobermans, "the lads" Zeus and Apollo, became Jane's "lassies," Athena and Aphrodite, a pair of spoiled Cavalier King Charles spaniels. Thomas's friends, pub owner Eleazor Ross ("I'll thank ye to remember it's just Ross") and blacksmith Theo Campbell, are modeled after the TV show's Orville "Rick" Wright and Theodore "T.C." Calvin. And Magnum's famous Ferrari becomes—what else?—a red racing curricle.
One Thing Leads to a Lover, the second title in the series, is my homage to Scarecrow and Mrs. King (1983-1987), which starred Bruce Boxleitner as secret agent Lee Stetson, codename Scarecrow, and Kate Jackson as Amanda King, a divorced housewife with a knack for spy work. I loved this show for the great dynamic between the leads, as stuffy Scarecrow clashes again and again with Amanda's flighty manner but fabulous instincts. The opposites attract, 'will they-won't they?' tension was off the charts!
Lots of elements of the show were tailor made for a Regency remake. The heroine is a smart woman with two young sons and a mother who worries too much; trapped by others' expectations, she dreams of an adventure. The hero is a savvy secret agent with a troubled past who knows he can't afford to be distracted by the heroine but can't seem to help himself. Thus Lady Kingston and Major Langley Stanhope, master mimic known as "the Magpie," were born. As in the TV series, a mistaken delivery brings them together, forces them to join wits against a common enemy, and ignites a spark. Like Who's That Earl, One Thing Leads to a Lover has several references that fans of the show will catch. For example, Lee Stetson frequently hid in Amanda's back yard to speak to her through the kitchen window, while Langley and Lady Kingston regularly meet up in the secluded garden behind her London townhome. And the spy agency, accessed via a coat closet in a Washington, D.C. brownstone in the 1980s, becomes "The Underground," a secret world beneath a tobacco shop.
For the third book, Better Off Wed, I turned Remington Steele upside down. The series, which ran from 1982 to 1987, followed private investigator Laura Holt (Stephanie Zimbalist), who had trouble attracting clients until she invented a fictional male boss, Remington Steele. Business was booming when a charming con man (Pierce Brosnan) showed up and claimed to be Steele. Though Laura resented his interference and knew she shouldn't trust him, she couldn't help being attracted to him. As the show's opening monologue made clear, "We never mix business with pleasure. Well, almost never."
I gender-flipped their roles, making my hero, Captain Jeremy Addison, Lord Sterling, a highly-trained, by-the-rules intelligence officer, sent to find the mysterious woman who calls herself "Lady Sterling." She's known throughout London as a pickpocket, relieving noblemen of both their money and their secrets, but to what end? When Jeremy learns the truth, he decides to play along with her game, and the two join forces to expose a shared enemy in this fake-marriage, just-one-bed, opposites-attract trope extravaganza. Though it's Lady Sterling who's the charming con in my series, there's a bit of mystery in Jeremy's past, too. And while Remington Steele frequently called up details from film noir classics, like The Maltese Falcon, to help solve the mystery, Lord and Lady Sterling fall back on the plots of plays for their period-appropriate inspiration.
Of course, I also nod to the 1980s in my titles, from Madonna's Who's That Girl (1987) to the 1985 cult classic, Better off Dead, starring John Cusack. The covers feature the bright colors and bold graphic design popular in the era. But I can't neglect the final detail that ties the stand-alone books in this series together. Matchmaking spymaster General Zebadiah Scott combines hints of the unseen boss of Charlie's Angels (1976-1981) with the lovable but irascible Colonel Sherman T. Potter from M*A*S*H (1972-1983).
I hope you've enjoyed this tour through the 1980s inspiration for my "Love & Let Spy" series. If you're a fan of the original TV shows, watch for more "Easter eggs" in the books. But even if you never watched an episode, I think you'll still find lots to love in these sexy, suspenseful Regency romances.
---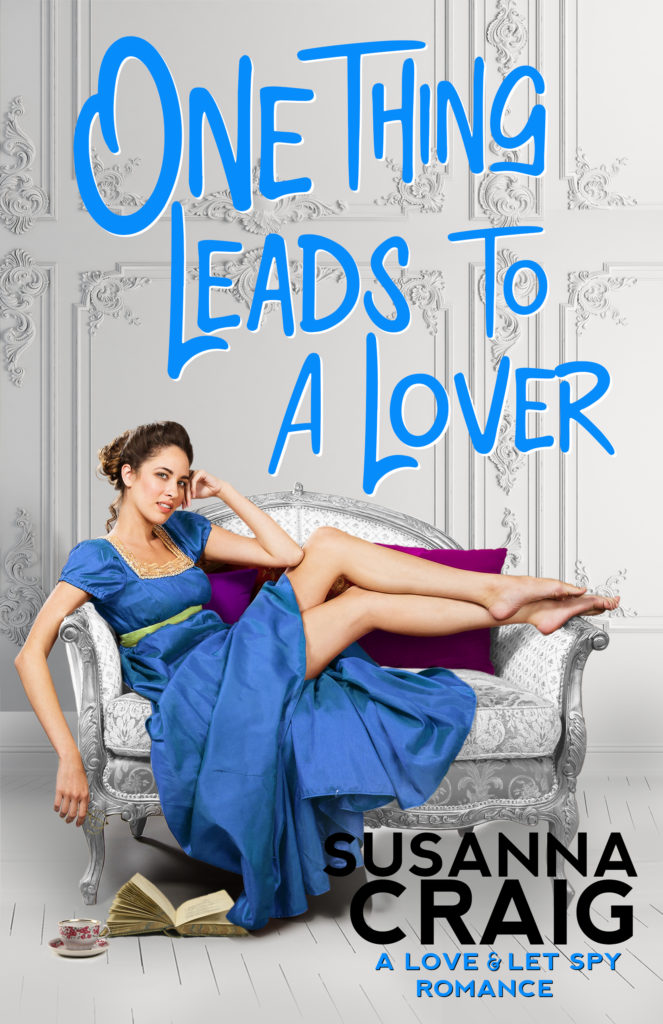 Opposites attract more than trouble in the latest captivating Regency romance from Susanna Craig.
Amanda Bartlett, widowed Countess of Kingston, is a woman beyond reproach. Married at nineteen, she dutifully provided the Earl with an heir and a spare before his death three years ago. Since then, Amanda has lived a simple, quiet life. A life that, if she were honest, has become more than a trifle dull. So when an adventure literally drops into her lap, in the shape of a mysterious book, she intends to make the most of it—especially if it brings her closer to a charismatic stranger. . . .
Major Langley Stanhope, an intelligence officer and master mimic known as the Magpie, needs to retrieve the code book that has fallen into Amanda's hands. The mistaken delivery has put them both in grave danger and in a desperate race to unearth a traitor. It's also stirred an intense, reckless attraction. Langley believes the life he leads is not suitable for a delicate widow, but it seems he may have underestimated the lady's daring . . . and the depths of their mutual desire. . . .