In the Event of Love + Delilah Green Doesn't Care = Small Town Romance with Big Heart
by Courtney Kae
Hi, All! Courtney Kae (she/they) here! Today I get to chat with one of my favorite authors and wonderful friends Ashley Herring Blake (she/her) about her AMAZING Bright Falls series! If the city person returns to their small town with cozy vibes aspect of ITEOL interests you, here is an amazing pairing! From the moment I joined Claire and Delilah in Bright Falls, I knew I wanted to stay forever!
Courtney: Hi, Ashley! I'd love to dive right into Delilah Green Doesn't Care and Bright Falls with you, my beloved fictional escape! For me, creating the town of Fern Falls was such a fun experience of combining California mountain towns I love with places I wish could exist. Your town of Bright Falls is so full of warmth and charm that I was completely swept away! Did something specific inspire the setting?
Ashley: Hi, thanks for having me! I loved your setting in ITEOL. Fern Falls felt so alive and rich to me, and I wish I could visit! I created Bright Falls, which is set in Oregon, because I've always loved the Pacific Northwest. I'm from the south, so climates that are, well, less than blazing hot with 1000% humidity have always intrigued me. Also, I love clouds and rain and cool weather, so I wanted to set this story in a place that felt soft and subtle to me. I loved creating Bright Falls based on one of my favorite areas of the country.
Courtney: I loved digging my hands into Fern Falls and pointing out certain details of the town and culture, drawing the reader's eye to specific elements like fairy lights, lanterns, quirky signs, etc. All of the details you add to Bright Falls and its characters, from the descriptions of earrings to the scents of flowers, painted such a clear picture in my mind and made the reading experience so immersive. Are there certain elements you especially loved creating?
Ashley: I loved visualizing Stella's, the local bar where Delilah and Claire meet. The scents, the jukebox, the lacquered bar. I also really adored creating River Wild Books, the shop Claire owned, though I use "created" very loosely. Here I have to give credit to Parnassus Books in Nashville, which, though I don't live there anymore, I still consider my home indie. I debuted at Panassus, grew up as an author in many ways there, and worked there as a bookseller, which was honestly, the best job I've ever had. I pictured River Wild Books very much like the interior of Parnassus. Other than this, I loved simply creating that feel of small town life.
Courtney: Something I love about the "city person returns to their rustic home town" trope is the character work it allows us to do; typically involving the main character's wants versus their needs and how the trip home helps them unpack everything (pun intended, haha). You do a FANTASTIC job of this with Delilah. In the beginning of DGDC, what is Delilah's driving want and how does it conflict with what she needs?
Ashley: Great question! At the start of the novel, Delilah has several things she thinks she needs and wants. One, she needs money. Artist life in Brooklyn is rough, so a lot of the external driving force behind her returning home is that her family plans to pay her to photograph her stepsister's wedding. She wants to get in, get paid, and leave. If she happens to annoy the hell out of her stepmother and stepsister while she's at it, all the better. She has a certain arrogance surrounding her family, believing she's above the hurt they caused her and couldn't possibly need anything they or Bright Falls has to offer. Of course, what she really needs is to connect with other people. She's guarded herself against any real connection to avoid more hurt—as one does—and her ideas of simply messing with her sister, taking photos, and escaping back to her city life is the last thing she actually needs. Of course, she never planned on Claire Sutherland making her feel things. The horror!
Courtney: Companion novels are one of my favorite conventions of the Romance genre. I love reading a book and guessing whose love story could be next (Fern Falls might feature one of these, too)! When I learned that Delilah's sister Astrid is the star of book two: Astrid Parker Doesn't Fail, releasing November 22, 2022 with Berkley, I was beside myself with joy! Is there anything you'd like to tell us about Astrid's story and where we can pre-order it?
Ashley: I'm so excited for Astrid's story to be out in the world. It's a very personal and special story for me, and, essentially, it's a story about a woman who is facing down success in a life she's convince herself she wants, but is starting to feel out of place in that life, like there might be more for her. Throw in a good old bisexual awakening, and you've got Astrid Parker. You can preorder it anywhere, but if you preorder from Parnassus Books (they ship, and ship internationally), you can get the book signed and personalized, as well as receive a sticker sheet with original art from Leni Kauffman (who did both covers for Delilah and Astrid, as well as the stickers for Delilah's preorder campaign, she's amazing). I'm super excited for everyone to read Astrid!
Courtney: Thank you for celebrating this Pride month with us by chatting about queer stories! Before we go, I'd love to hear what Pride means to you and what advice you would give to queer writers in the trenches?
Ashley: There's a lot of writing advice out there, but the best advice I can give is to trust your own process. It won't be like anyone else's and it can take time to really figure out. Also, it's not static. It might change over time. Another little gem is eyes on your own paper. It's so tempting to compare yourself to someone else's success, wonder why you didn't get that or this, feel left out of certain circles, but the truth is, all you can control is your own work. The words. And your words matter. Particularly as a queer author, we need your story in this world, the one only you can tell. So write it. Maybe write it badly at first. That's okay. Rewrite it. You'll get there, and I can't wait to read it.
---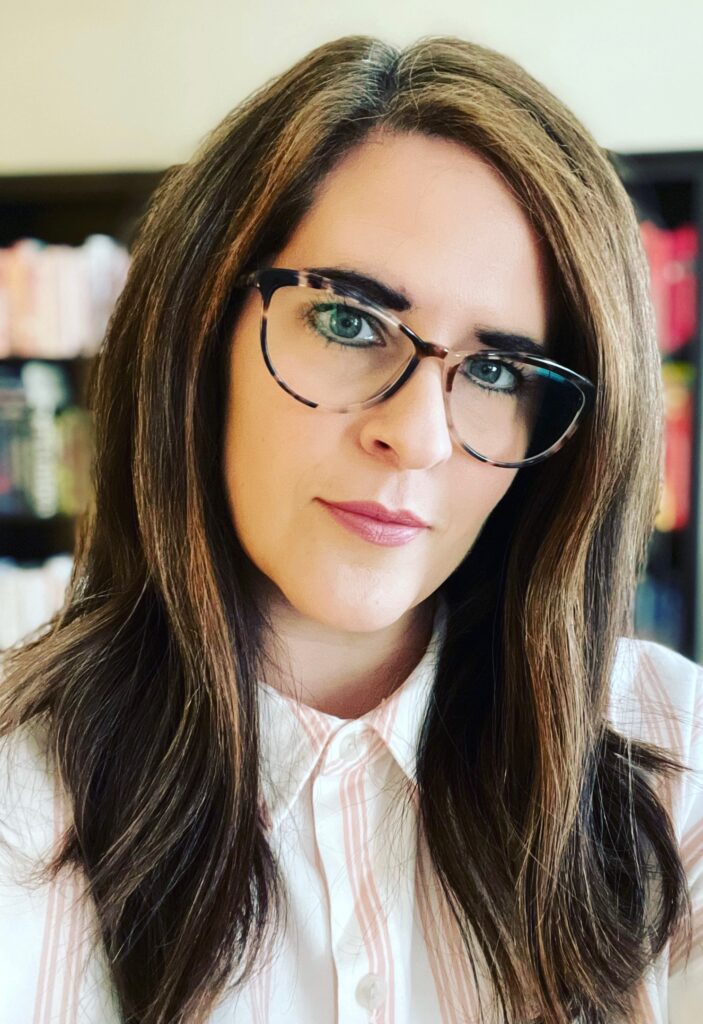 Ashley Herring Blake is an award-winning author and teacher. She is the author of six novels for young adults and middle grade readers, as well as the adult romance novels Delilah Green Doesn't Care and Astrid Parker Doesn't Fail. She lives on a very tiny island off the coast of Georgia with her family.
Follow Ashely on Twitter or Instagram at @ashleyhblake or online at www.ashleyherringblake.com
Preorder ASTRID PARKER DOESN'T FAIL
Purchase DELILAH GREEN DOESN'T CARE
Courtney Kae writes the sweet and steamy happily ever afters that give her bi little heart great joy. She lives in Southern California with her husband, child, and growing hoard of plants. Some of her favorite things include: movie nights, mountain air, and pretending she doesn't have a coffee "problem". She can be found on Twitter and Instagram at @court_kae and online at www.courtneykaebooks.com. In the Event of Love is her first novel.
Preorder IN THE EVENT OF LOVE