In addition to growing up with my mom who is a wonderful cook, I spent a lot of time baking with my grandmother in the mountains of Vermont. I cherish the memories of creating recipes, of the stories I'd listen to as we'd mix the ingredients, and the scents of warm cookies, cake, bread, and more. A tradition that I shared with my children as they grew up.
Through baking I taught my kids how to measure, to count, and to be artistic in thinking beyond the recipe and create something new, and to have fun as I'd place a small dollop of frosting on the tip of their noses. For birthday's they'd pick themes for their cakes, and on holidays they'd help place special effects, usually created with chocolate, candy, or toys. In addition, they learned about sharing what they baked with friends and neighbors, and how to help the community by donating their creations to bake sales.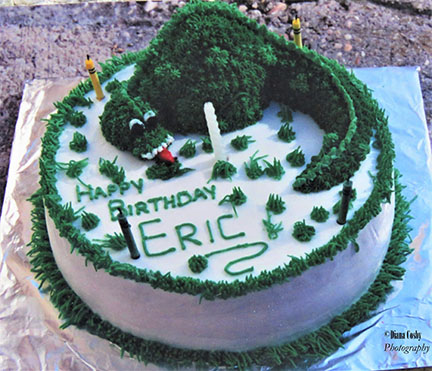 I'm a huge believer in giving back and helping others, a trait I wanted my kids to embrace in their lives. For several years I made cakes for Make-A-Wish. As I'd decorate the cake, with my children giving me suggestions on what colors to use or details to ad, we'd talk about the challenges of life, and how important it was to thank God for each day.
As I look back, I'm grateful for those special moments of baking with my children, it was more than teaching them life lessons, but a way to create special memories that will forever touch their, as my heart.
---
"Diana Cosby is superbly talented." —Cathy Maxwell, New York Times bestselling author
In battle-torn Scotland, a castle's mistress awaits her groom, a warrior she has never met . . .
Lady Gwendolyn Murphy's fiancé has finally arrived at Latharn Castle, but she expects no joy in their introduction. Gwendolyn is well aware of Bróccín MacRaith's cold reputation. Yet from first glance, she is drawn to the intimidating stranger. Impossible! How could she be dazzled by such a callous man?
Little does she know, Bróccín is dead. The man Gwendolyn believes to be her intended is actually Sir Aiden MacConnell, a member of the Knights Templar and her enemy, masquerading as the earl to gain access to the castle. His soul is dedicated to God and war; he has no time for luxuries of the flesh. But Gwendolyn's intoxicating beauty, intellect, and fortitude lures him to want the forbidden.
With the wedding date quickly approaching and the future of Scotland at stake, Aiden gathers critical intelligence and steels himself for his departure, vowing to avoid an illicit liaison. But a twist of fate forces him to choose—move forward with a life built on a lie, or risk everything for the heart of one woman?
Praise for the novels of Diana Cosby
"Cosby gives you it all—passion, danger, lush history and a touch of magic. Excellent reading." —Hannah Howell, New York Times bestselling author
"A sexy new voice in historical romance. Scottish historicals have a bright new star." —Sandra Hill, USA Today bestselling author
"Diana Cosby writes wonderful historical romance!" —Susan King