By Maddie Day
Maddie Day here, excited that No Grater Crime, the ninth Country Store mystery, is hitting the bookstore shelves – and e-reader screens.
Given that the series is now nine books long (with another coming next March), readers might want a bit of a refresher tour of Robbie Jordan's scenic southern Indiana town of South Lick. We'll cover the surrounding area in another post. South Lick is in hilly, wooded Brown County about five miles from the county seat of Nashville.
First, have you ever wondered about the name, South Lick? When I was about to propose the series and was perusing a map of Brown County, I spied a South Lick Creek with South Lick Road next to it. I knew about the well-known French Lick farther south in the state, but there isn't a real town named South Lick. I was aiming for a quirky fictional village, and South Lick fit the bill! The word "lick" in a place name meant they usually had salty sulfur springs, which were often used for therapeutic baths a hundred years ago.
I plunked down the run-down general story Robbie bought and renovated at 19 Main Street in South Lick. Pans 'N Pancakes is set at the edge of town, but Robbie can walk into the town center in a few minutes. She has a barn behind the store, with woods surrounding the back. You'll find out who moves into the antique limestone home across the street in No Grater Crime, so I won't spoil that for you.
As in other small Indiana towns settled in the nineteenth and twentieth centuries, South Lick includes both antique buildings and traditional Hoosier Arts and Crafts-era cottages, with overhang front porches and eaves in the upstairs rooms.
Downtown, the South Lick First Savings Bank is housed in a historic Art Deco-style building with rounded geometrical lines. Jim, Robbie's first boyfriend in the series, also lived in an Art Deco renovated apartment building. Her soon-to-be husband, Abe O'Neill, lives in a classic Hoosier cottage, which he is more than happy to share with Robbie.
The South Lick Public Library, built in the early 1900s, is a Carnegie building, and the town offices are in a renovated brick-and-limestone building. The police station is downtown, too. Hoosier Hollow, a fine-dining restaurant where Robbie's friend Christina is chef, is also nearby. Paco's Tacos and Buddy's Bread, an artisanal bakery, are within walking distance, as is South Lick Stromboli and Pizza, otherwise known as "Strom and Pete's."
The gazebo sits on the site of the former Jupiter Springs hot spring. Columns of limestone blocks hold up an octagonal covered structure that itself supports a domed top. Ornate metal grillwork includes the word Jupiter. The town had been famous for its spas, and Adele had told Robbie Jupiter Water was sold as a laxative nationwide up until about 1950. The Catholic Church in town is called Our Lady of Springs.
Jupiter Park is nearby, which you'll read about in Batter Off Dead. It releases next winter. Murder during the Friday night fireworks? Could happen!
---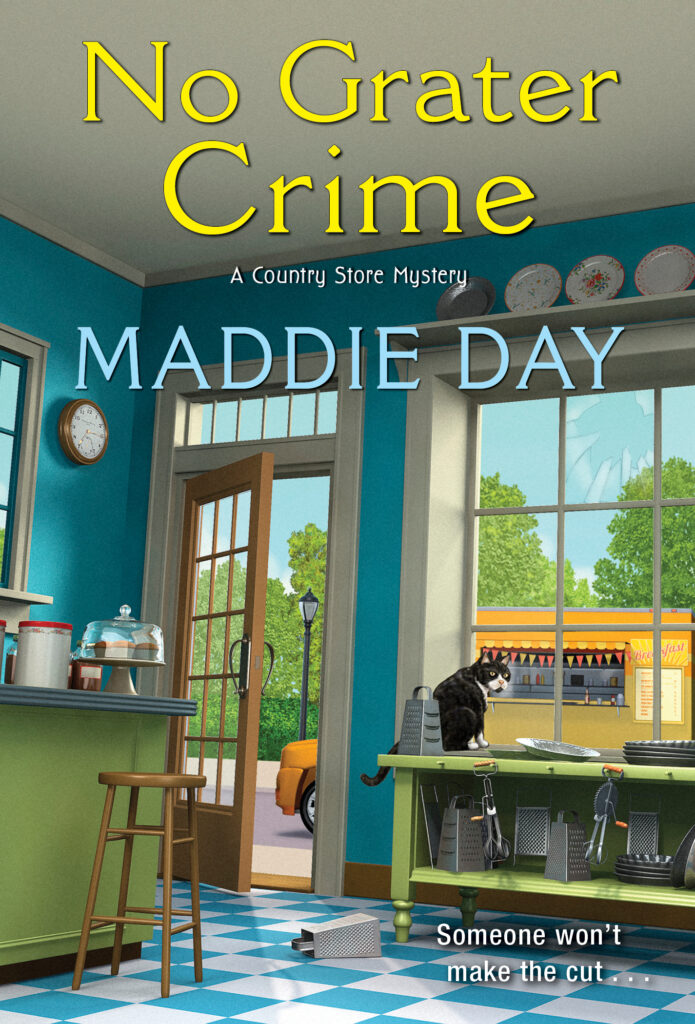 Robbie Jordan's Pans 'N Pancakes boasts delicious eats and the best vintage cookware finds in South Lick, Indiana. And now, for a limited time, there's a new special featured on the menu–murder!
Ever since meeting the wary owners of an antique shop opening across the street, Robbie has been scrambling to manage weird incidences plaguing her café and country store. Pricey items vanish from shelves without explanation, a fully equipped breakfast food truck starts lingering around the area each morning, and loyal diners mysteriously fall ill. When an elderly man dies after devouring an omelet packed with poisonous mushrooms, Robbie must temporarily close down Pans 'N Pancakes and search for the killer with a real zest for running her out of business–or else.