by Shana Abé
In the golden summer of 1910, John Jacob Astor IV had a unique problem. Instead of decamping from Manhattan to Newport (his usual summer haunt), he had gone to the fashionable playground of Bar Harbor, where he met an intriguing teenaged socialite named Madeleine Force. Jack was considered aloof by many and was reportedly rather shy, while she was lovely and vivacious and nearly 30 years younger than he. Yet by all accounts, they were nearly instantly captivated by each other.
Madeleine's family was quite well-to-do; she grew up in a privileged, sheltered world. But the Forces were not Knickerbockers like the Astors, the elite of the elite. Not only was Jack Astor the richest man in America, he was also very scandalously—and recently—divorced; nearly every step he took was chronicled by the tabloids. Jack and Madeleine's budding courtship appalled the Knickerbockers, but it swiftly fascinated the rest of the country, and then the world.
Soon they were followed by reporters everywhere they went. How, then, was Jack to decorously woo his sweetheart out of the public eye? One clever way was to take Madeleine on a secluded picnic—chaperoned, of course!—where they could talk and eat and share their secrets in relative privacy.
A Gilded Age picnic was much like what we might enjoy today, only with corsets and pressed linen suits. You might find the usual wicker hamper brimming with cold meats, cheeses, bread and pastries…but Jack Astor being Jack Astor, only the finest foods would do, served with sterling silverware upon the most exquisite imported china. (Even Jack's beloved dog Kitty got her own plateful of boiled chicken.)
Food storage in 1910 was not quite so safe and convenient as we have now. Instead of plastic containers sealing your meal, there were tins lined in waxed paper. Beverages like lemonade or sarsaparilla or ale would be transported in heavy stoneware jugs, the better to keep their contents cool. Champagne, of course, could be brought in its bottle, but watch out when opening it: ice was a luxury and might have melted anyway by the time you reached your destination. Warm champagne does tend to froth!
Jack and Madeleine escaped their entourage of newspapermen to a secluded cove on the island, where they enjoyed sandwiches of shaved honey ham and sharp yellow cheddar, and melt-in-your-mouth chicken salad, and vinegary soused salmon. Jack's chef would have made certain that every bite of the meal he prepared was not only delectable, but designed for travel: the meats thoroughly cooked or smoked, the cheeses hard, not soft; nothing too delicate, nothing that would spoil in the heat. Pickled fruits and vegetables were quite popular, cucumbers or okra, peaches or tomatoes. The bread would've been hearty, heavily buttered and thickly sliced; the fresh fruit would've been something simple and easy to eat with your fingers, like grapes. Dessert would have been cake or tarts or even stick candy.
In my research about the picnics of this era, the one piece of advice I found repeated over and over was that the host should always pack a good deal more food then they think their guests will devour—because, enlivened by their jaunt in the fresh air, the guests would almost certainly devour it all anyway. Fine advice to still follow today! Also, don't forget your blanket and a good hat; there was no sunscreen in 1910. And if you've finished this post and you're not thinking even a little about having a delicious sandwich right now, you have a stronger will than I do.
---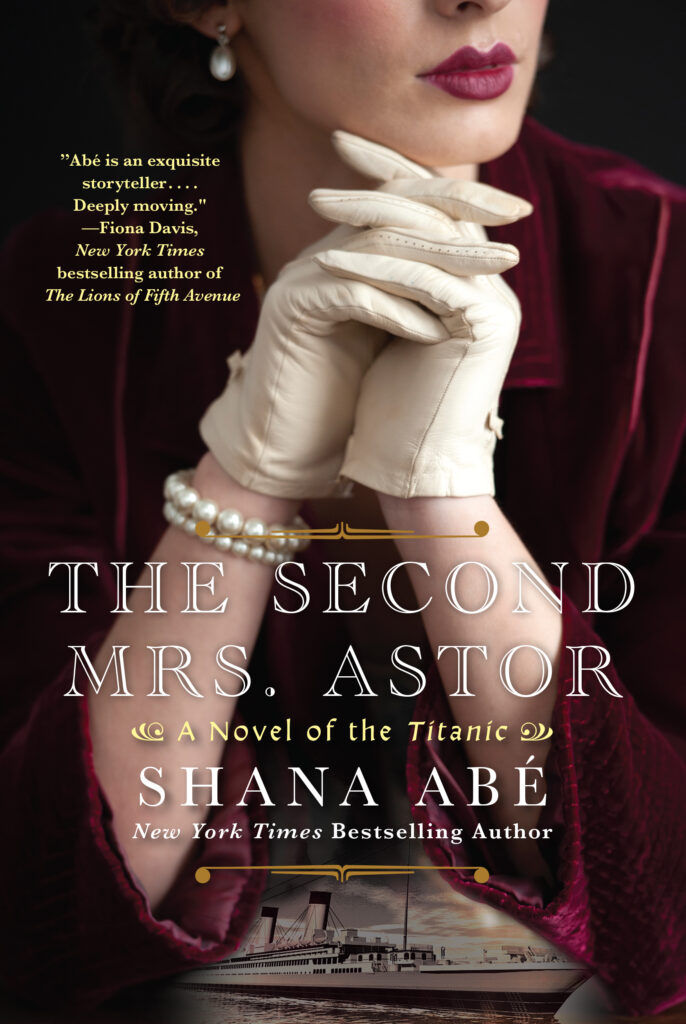 He was American royalty, the richest man in the country and Fifth Avenue scion of the Gilded Age. She was a vivacious teenage socialite suddenly and unexpectedly thrust into fame simply for falling in love with a famous man nearly three decades her senior. Brought to life in this sweeping work of historical fiction by New York Times and USA Today bestselling novelist Shana Abé, the love story between Jack Astor and Madeline Force, from scandalous courtship to tragic honeymoon aboard the Titanic, which made them the most famous couple of their time…
A mesmerizing novel of historical fiction from New York Times bestselling author Shana Abé, The Second Mrs. Astor tells the sweeping real-life Titanic love story of Madeleine Force, who became the teenaged bride of one of the world's richest men, and triumphed over tragedy and heartache.
"I won't begin with our ending, which everyone in the world knows anyway. Our beginning, however, belonged only to us…"
Madeleine Talmage Force is just seventeen when she attracts the attention of John Jacob "Jack" Astor. Madeleine is beautiful, intelligent, and solidly upper-class, but the Astors are in a league apart. Jack's mother was the Mrs. Astor, American royalty and New York's most formidable socialite. Jack is dashing and industrious–a hero of the Spanish-American war, an inventor, and a canny businessman. Despite their twenty-nine-year age difference, and the scandal of Jack's recent divorce, Madeleine falls headlong into love–and becomes the press's favorite target.
On their extended honeymoon in Egypt, the newlyweds finally find a measure of peace from photographers and journalists. Madeleine feels truly alive for the first time–and is happily pregnant. The couple plans to return home in the spring of 1912, aboard an opulent new ocean liner. When the ship hits an iceberg close to midnight on April 14th, there is no immediate panic. The swift, state-of-the-art RMS Titanic seems unsinkable. As Jack helps Madeleine into a lifeboat, he assures her that he'll see her soon in New York…
Four months later, at the Astors' Fifth Avenue mansion, a widowed Madeleine gives birth to their son. In the wake of the disaster, the press has elevated her to the status of virtuous, tragic heroine. But Madeleine's most important decision still lies ahead: whether to accept the role assigned to her, or carve out her own remarkable path.