Sibling relationships can be complicated. Maybe you are best friends or you barely speak with each other. Maybe you're similar or complete opposites. April 10th is National Siblings Day and to celebrate we've rounded 10 books that showcase an array of sibling relationships!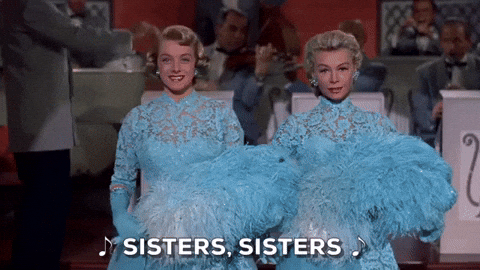 At the heart of this standalone domestic thriller are two sisters who couldn't be more different from each other. Natalie Cavanaugh is a practical Boston cop who doesn't like anything too fussy. Glenn Abbott seems tailor-made for the spotlight and has put everything into building her baking blog. But there is a deadly secret that connects the two sisters, and it could be back to haunt them…
For the first time in her life, everything seems be moving along perfectly for Abby. And best of all? She's been reunited with her sister, who she's been separated from since a tragic incident years ago. The two sisters are planning a party to celebrate but danger lurks in the shadows because there is one uninvited guest who wants the past to stay hidden.
Cheris Hodges's series follows the love lives of the very different Richardson sisters. And this one is all about Alexandria. She's the responsible sister who has always made sacrifices for the Richardson family's B&B. But Alexandria is ready for a vacation. She heads out to sea on a singles' cruise where she throws caution to the wind when she meets a handsome stranger. Things get a little complicated, though, when she returns home and learns her handsome stranger is the architect working on the B&B's major renovation project.
Little Women by Louisa May Alcott
It would be impossible to have a roundup of sibling books and not include the March sisters. Following the lives of four very different sisters, this enduring classic has inspired a range of retellings along with movies. It truly captures the frustrations, beauty, and sometimes heartbreak of sisterhood.
The last in the Cowboys of California series, this Beauty and the Beast retelling focuses on the oldest Pleasant brother, Jesse. He's never felt like he fits in with his charming brothers, but when the Senate committee comes looking for a man of his public standing Jesse decides to use this as an opportunity to prove he can keep his cool while also giving back to his community. He'll just need some help with his people skills. Lily-Grace has had it with hot-tempered men. But when she sees Jesse's softer side and despite their rocky start, she can't ignore the sparks flying…
Mads might not be related to Tock, Cass, Max, or Nelle but the group of shift-shapers might as well be sisters. In the latest entertaining and action-packed Honey Badgers Chronicles, Mads and her team members are pulled into helping Siberian tiger shifter Finn Malone and his brothers avenging his father's death. Vengeance is her favorite pastime after all, especially if she can snuggle up with Finn and ignore her own family drama.
Sense and Sensibility by Jane Austen
The Bennet sisters from Pride and Prejudice usually get all the attention, but we're focusing on another set of sisters written by Jane Austen: the Dashwoods. The three sisters (Elinor, Marianne, and Margaret) along with their mother are forced to move after the death of Mr. Dashwood. Elinor and Marianne could not be more different. But as the story follows their love lives, each of the sisters learns more about themselves and each other.
When their mother is diagnosed with a terminal illness, four estranged sisters must return home to rural Arkansas. Their mother hopes that the sisters can repair their relationships. In this captivating family drama, the sisters much each confront their personal obstacles and the illusions they've created if they want to rebuild their trust in each other.
Sometimes siblings can be cutthroat (looking at you Succession) and we think the Cahills really fit that description. The Cahills of San Francisco are famous for two things: their vast wealth, and the scandals that surround them. Some people will do anything to get, and keep, the Cahills' kind of money, but James wants nothing to do with it. He prefers to spend his time enjoying the perks of being a soon-to-be-rich bad boy. Until he ends up in the hospital and finds he's a prime suspect in the disappearance of his girlfriend.
The Fernandez sisters have each followed their own unique path, even when it leads to surprising destinations—in life and love. In the last in Matched to Perfection series, Lili was once known as the "wild child" who loved singing and dancing. But tragedy and loss lead to drawing out Lili's caretaking side and the special rhythms of the past seem like a distant memory. Until she meets police officer Diego Reyes…